It's Not Even Fall Yet And Pumpkin Pie M&Ms Are Hitting Shelves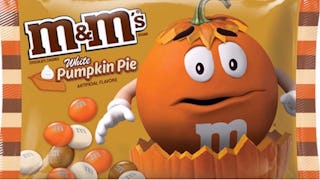 Image via Mars.
Pumpkin candles, pumpkin ice cream, pumpkin everything
The leaves haven't changed and the temperature hasn't dropped, but don't let that stop you from indulging in all things pumpkin. Pumpkin spice mania is about to hit the land — and we've got a preview of it today with new Pumpkin Pie M&M's.
Technically they're called White Pumpkin Pie M&M's. If you're thinking "What the hell is a white pumpkin pie?" — apparently, the candies are white chocolate wrapped in a pumpkin pie-flavored coating. The fall treat is now available to purchase at Walmart, Thrillist reports. The candy giant Mars released the new flavor with its other fall offerings, which include Pecan Pie M&Ms and Candy Corn M&Ms. If you're ready for fall, the candy aisle has you covered.
This flavor is further evidence that pumpkin spice will takeover everything, every fall, for eternity. People are genuinely excited about this.
Now you can eat your pumpkin candy while drinking pumpkin coffee and enjoying the nice scent of a pumpkin spice candle. It's almost fall — it's about to be pumpkin-spice-everything, so you may as well get a jump start.
We've got it: pour the pumpkin pie M&Ms on a big bowl of pumpkin ice cream that Halo Top just launched. A perfect pairing since it's still freaking summer and 80 degrees out.