Nothing Says 'Fall' Like A Pumpkin-Themed Dudeoir Shoot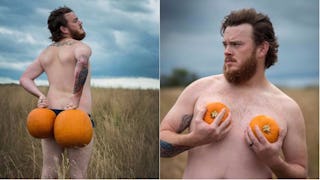 Image via GT Photography
There is nothing sexier than a man draped in pumpkin
Nothing says "Happy Fall" like a half-naked man rolling around in a field with strategically placed pumpkins all over his body, right? No? Just us? For all the nonbelievers out there, this hilarious photo shoot will most definitely change your mind.
Nashville-based photographer Gayla Thompson and her husband Ryan, who own GT Photography, decided to put some pumpkin spice into their lives and held a 'dudeoir' photoshoot. They shared the photos to their Facebook page where they were a big hit. It seems Ryan, a self-described "great sport and even better husband," really seemed to get into the spirit of the season.
Thompson tells Scary Mommy that her husband didn't really have an interest in any of the previous boudoir shoots they'd done this summer (omg there are more and they are just as hilarious) but he does them anyway, all in the name of love. We're pretty sure these two have the marriage thing nailed.
We can see why she captioned the shoot #pumpkinbutt:
Thompson tells us her past photo shoots have been really well received by her followers on Facebook, "so we decided to continue the trend and do a fall theme dudeoir." She says they originally did these for fun between the two of them but "they've put a lot of laughs and smiles on even more people," so she decided to share them with the world. We are so, so very glad she did.
This one might be our favorite:
Wait, scratch that, we have a new one. Just look at the concentration:
The Nashville-based couple has been married for two years and clearly have an amazing sense of humor. We love a guy that doesn't take himself too seriously and it appears Ryan definitely has that box checked. Thompson tells Scary Mommy her husband is "a carpenter by day and a model by night," but we'd like to urge him to pursue a modeling career full time because this is obviously what he was born to do.
Well, that and drink a comedy-sized bottle of Bud, but who can blame him? The life of a male model is rough:
Might we suggest a 2018 calendar next?