If Your Baby Is Born On The Same Day As The Royal Baby, You Could Win $10,000
by Thea Glassman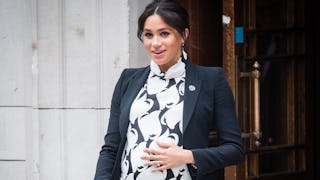 Image via Samir Hussein/WireImage
You could earn some serious cash if your baby is born on the same day as Meghan Markle and Prince Harry's baby
Haven't been paying attention to the whole royal baby countdown? You miiiiight want to start. Pure Leaf Tea is giving away $10,000 to an American baby born on the same day as Meghan Markle and Prince Harry's baby, and that money will go straight to your kid's education fund, according to TODAY. So, yes, totally understandable if you just frantically set a Google alert for Markle, Harry, and royal baby.
Here's the whole very cool deal. If your child is born on the same day as the royal baby, snap a picture of your family, your newborn, or a baby accessory and post it to Instagram or Twitter, alongside the hashtags #PureLeafRoyalTEABaby and #Sweepstakes (also, make sure to follow Pure Leaf Tea because that's part of the deal).
Ten winners will be notified via DM and a professional photographer will fly out to shoot a royal family portrait in whichever location you choose. They'll also provide very cute accessories for your baby so they can have the true Buckingham Palace experience.
Of those ten winners, one family will receive the $10,000 education prize. The nine runner-ups and fifty other families will get a $100 Shutterfly gift card which probably means that you could do yet another royal family photoshoot and no one can judge you, damn it.
Markle said in a video clip that she's likely due at the end of April or May, so if that sounds like it's right around your due date you should probably start picking out your tiara and practicing your best serene Meghan Markle smile ASAP.
If that is not even close to your due date but you'd really, really like a cash prize, rest assured that there will be more opportunities like this one. Last year, KFC offered $11,000 in college tuition money if a family named their baby after the Colonel. Welcome to the delicious fried chicken family, Harland Rose.
Another family won Reese's Outrageous Fan contest for naming their daughter Reese Eve Cupp, after the chocolate-y, peanut buttery treat. They were rewarded $10,000 AND free candy for a year (jealous and more jealous).
"We wanted to embrace the humor, and have fun with Reese's name," Eric Cupp, Reese's dad, told TODAY. "Plus, our oldest daughter was around two at the time, and when she would ask for a Reese's Cup in her little two-year-old lispy voice — that was what solidified that we should definitely stick with the name."
Here's to hoping that our future children are amused, and not too wildly embarrassed, by all of the above.