Racist Mississippi Middle School Assignment Asks Students To 'Pretend To Be Slaves'
by Cassandra Stone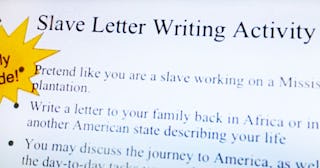 VESA Channel/Youtube
Purvis Middle School made students undergo a "slave letter writing activity" as an assignment
At Purvis Middle School in Mississippi, a racist assignment is making waves among activists. The school had students engage in a "slave letter writing activity" at the mostly-white school, where the kids were asked to pretend they were "a slave working on a Mississippi plantation."
The eighth-graders were also asked to "write a letter to your family back in Africa describing your life" as part of the assignment as well. A screenshot of the assignment began circulating on social media, quickly sparking outrage among activists who feel the assignment is demoralizing.
Lamar County School District Superintendent Dr. Steven Hampton confirmed to news station WDAM the activity was assigned during a Mississippi history class at Purvis Middle School on Wednesday. Hampton said the assignment shown in the screenshot was the last slide in a 12-slide PowerPoint presentation about the "atrocities and negatives of slavery."
The intention of the assignment, according to Hampton, was to show students "just how horrible slavery was and to gain empathy for what it was like to be a slave."
An email obtained by The Daily Beast that wase sent to parents and guardians of the Purvis Middle School students from the principal, Frank Bunnell, confirms that the exercise was part of an eighth-grade history lesson, and apologized for it.
"A person could read just the assignment and draw a very unrealistic view of the true tragedies that occurred. That was not intended," he wrote. "However, intent does not excuse anything. There is no excuse to downplay a practice that (even after abolished) spurs unjust laws, unfair economic practices, inhumane treatment, and suppression of a people."
Perhaps what is most striking to those speaking out against the assignment is it's almost chipper tone of instruction: "You may discuss the journey to America, as well as the day-to-day tasks you perform."
Let's be clear, since it obviously needs to be cleared up: slaves weren't farmers. They didn't gleefully complete chores as part of their work day. They were kidnapped from Africa, shuttled to the U.S. on an unsafe, treacherous journey. Approximately 12 million slaves died during the Middle Passage of slave ships traveling from West Africa to the West Indies. The enslaved people who survived the passage were bought and sold like chattel, and considered property under U.S. law until 1865. The daily horrors of a slave's experience are unfathomable to this day, and are certainly not prime for fodder like a cheery, pen-pal letter about life on the farm.
"I don't know how a logical person teaches this," said Jeremy Marquell Bridges, social media manager for Black Lives Matter Mississippi, told The Daily Beast. "Like someone who went to school to teach children could think this exercise was helpful in any way. It's not helpful, it's hurtful."
This article was originally published on