The Queen And Meghan Markle Had Way Too Much Fun On Their 1st Royal Outing Together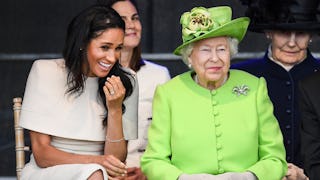 Image via Jeff J Mitchell/Getty Images
The Queen and Meghan Markle went on their first royal outing together and it was too cute
It looks like the newly-minted Duchess of Sussex, AKA Meghan Markle, and her grandmother-in-law Queen Elizabeth are fast friends — and we literally can't get enough. The adorable pair headed off on their very first royal engagement without Markle's husband, Prince Harry. Photos of the two show how giddy they were to be hanging out together, and we can barely handle the cuteness.
According to Time, the Queen and Duchess' first royal outing together happened in Cheshire. They were there for the opening of the Mersey Gateway Bridge and Chester's Storyhouse Theatre where they took in a student drama performance called "Drop in the Ocean." But first, an overnight journey to get there on the royal train. Yes, there's a royal train. I KNOW, I was also very excited to hear this news.
This wasn't the brand-new Duchess' first official engagement as part of her husband's royal family duties, but it was the first without him at her side. But it looks like she's doing just fine hanging out with her BFF the Queen.
Look at them. Has anyone ever seen the Queen this happy?
Just having the best time ever, like they've known each other for years.
Their bond is obviously strong. You can't fake this kind of comfort and chemistry and we're here for it.
Pretty sure they're about to take over the world together.
Look at them appearing to adorably plot.
OK, maybe not taking over the world, but definitely planning their next ridiculously cute outing. At least that's what I'm telling myself.
Experiencing serious FOMO here Meghan, please tell us what's so funny. Also, I want to borrow the Queen's hat. Like, now.
There's a lot to love about these photos but the main takeaway? The Queen is literally beaming. She's famously stoic and not usually one to giggle throughout an entire official appearance, so it's clear as day that Markle's very quickly endeared herself to her new in-laws. She's our American princess hero and seeing her openly welcomed into the arms of her royal family is freaking heartwarming.
More Queen and Duchess trips please. We totally need this.
This article was originally published on