The Queen Releases A Statement About Meghan & Harry's Interview
by Valerie Williams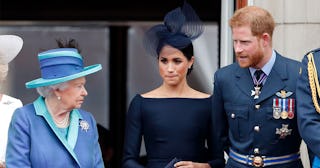 Max Mumby/Indigo/Getty
The Queen has finally issued a statement in the wake of Meghan and Harry's explosive interview with Oprah
For the past two days, the world has waited to hear what response, if any, the British Royal Family would have after Meghan Markle and Prince Harry's bombshell-filled interview with Oprah Winfrey on Sunday night. Well, the time has come — Queen Elizabeth, Harry's grandmother, has released a statement.
"The whole family is saddened to learn the full extent of how challenging the last few years have been for Harry and Meghan," reads the statement, which was released by Buckingham Palace today on behalf of the Queen.
"The issues raised, particularly that of race, are concerning," the statement continues. "While some recollections may vary, they are taken very seriously and will be addressed by the family privately.
"Harry, Meghan and Archie will always be much loved family members."
While it doesn't go into much detail, the statement does touch on one of the more shocking parts of Meghan and Harry's interview — a member of the family discussing Archie's skin color before he was even born. "They didn't want him to be a prince… which would be different from protocol, and that he wasn't going to receive security," Meghan told Oprah. "We have in tandem the conversation of, 'He won't be given security. He's not going to be given a title.' And also concerns and conversations about how dark his skin might be when he's born." Meghan wouldn't reveal what member of the family had this conversation with Harry (which he later relayed to Meghan) saying it would be "too damaging" for them.
Once Harry joined the interview, he too declined to say who it was that had this conversation with him. "That conversation I'm never going to share," he said. "It was awkward. I was a bit shocked."
This statement is pretty weak overall and definitely leaves more questions than answers. The "recollections may vary" part sounds an awful lot like denial and gaslighting, but it comes as no surprise that the family wouldn't outright admit to something so racist and vile. That doesn't mean it never happened.
Along with accusations of racism, Meghan and Harry revealed a number of other disturbing details about life within the royal family including Prince Charles, Harry's father, eventually declining to take his own son's phone calls once the couple started discussing a transition out of being senior working royals.
"I feel really let down because he's been through something similar. He knows what pain is like," Harry says of his father. "And Archie's his grandson."
He continued, "Of course, I will always love him, but there's a lot of hurt that's happened. And I will continue to make it one of my priorities to try and heal that relationship."
It remains to be seen if Charles or anyone else in the family will come out with their own statement but odds are, they won't say anything publicly. After all, Harry outright admitted during the interview that his father and brother, Prince William, are "trapped" and unable to live life freely as he now is. Unless Meghan and Harry speak up again, we'll likely never know the family's full reaction.