Queen Latifah Absolutely Slayed Her Rendition Of 'Poor, Unfortunate Souls'
by Christina Marfice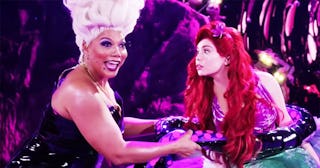 ABC/Youtube
Is Queen Latifah the only Ursula we need? This performance says yes
So this news isn't surprising at all, but it's still something the whole world needs to read and hear on a Hump Day morning: Queen Latifah absolutely slayed her role as Ursula on ABC's The Little Mermaid Live! last night.
I mean, we knew she would. She's an icon. A literally queen — it's right there in her name. While some of the casting for the live stage version of the Disney classic animated movie had us scratching our heads a little (Shaggy as Sebastian, anyone?), this one did not. We knew Queen Latifah was a perfect fit to play the evil sea witch, and when she took the stage to deliver us her rendition of "Poor, Unfortunate Souls," she proved that. Oh my God, did she prove that.
Here. Just listen for yourself if you haven't already. Even if you have, listen again, because it's that freakin' good.
The costume. The hair. The voice. It is all absolute perfection. Queen Latifah is the Ursula we want, the Ursula we need, and the Ursula we deserve in these trying times.
But don't just take my word for it. Here's what viewers had to say about the Queen's show stopping moment.
That's it. Cancel the search for whoever will play Ursula in the upcoming live-action remake of the film. Melissa McCarthy, love you, but move aside. We want Queen Latifah. She was born to play this role, and she made clear last night, in front of God and ABC executives and every live viewer, that she owns this. It is hers now. Who are we to argue?
Because our biggest complaint about Disney's live action remakes so far has been that the vocal performances just don't live up to the classics (The Lion King obviously notwithstanding, because Beyoncé and Donald Glover were instant icons). The music is the heart and soul of these classic Disney stories, and while Emma Watson is a great actress and an admirable humanitarian, her auto-tuned versions of Belle's classic songs did nothing good for our Disney-loving hearts.
Pat Carroll was an icon when she voiced Ursula back in 1989, but Queen Latifah just proved she is on that level. She could make the role her own, while still bringing just as much heart and soul to it as the voice actors did in the original versions of the films, and come on, Disney, that's what we want. Please give the people what they want here.
This article was originally published on