Iconic 'Queer Eye' Couple Tom And Abby Divorced Again, And Love Is Dead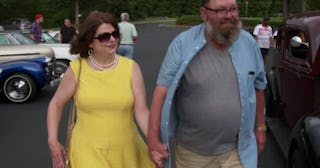 Netflix
Queer Eye couple Tom and Abby have divorced for the second time after falling back in love on the Netflix hit makeover show
Once upon a time, Netflix rebooted a little show called Queer Eye and it changed our lives. The show introduced us to the Fab Five (shoutout to our boys JVN, Tan, Karamo, Bobby, and Antoni!), but it also introduced us to a number of hometown heroes that pulled at our heartstrings. One of the most memorable episodes was "You Can't Fix Ugly," which featured Tom Jackson, who got a makeover specifically so he could win back his ex-wife, Abby Parr. The couple remarried shortly after the episode aired and inspired a nation of Netflix couch potatoes to believe in the power of love, but we regret to inform you that Tom and Abby have divorced, again.
On September 4th, 2019, Tom took to social media to announce the sad news, telling a fan that "we tried and had a wonderful time," but ultimately decided to split for the last time.
"The roller coaster ride is over. Abby and I got divorced again. It was final," he wrote. "We still love each other and always will. We are better as friends."
Interestingly, Tom's episode was supposed to be about him getting a makeover so that he could start dating again. They even filmed a scene where Karamo Brown helps Tom make a dating profile. However, after Tom made a throw-away comment about his ex-wife, the Fab Five had an idea.
"All of a sudden we are on a bench and I'm like, 'Call your ex-wife!'" Brown told Entertainment Weekly.
The ex-lovers reunited at a car show and Abby was so impressed with Tom's new outlook on life that the two quickly fell back in love. Their episode aired in February 2018, but Tom broke our hearts when he shared that he and Abby had quietly split behind-the-scenes.
"I just watched my episode for about the 20th time. I cry like a baby every time I watch it. Just to let the world know, Abby and I are no longer together," Tom tweeted. "She will always be the love of my life. I will always love her more than anything!!!!!!!"
Fans were destroyed, but then — some hope! At the beginning of May 2018, Tom announced that he and Abby reunited and got remarried. The couple eloped in an intimate ceremony in Tennessee and Tom was overjoyed.
"Abby and I got married!!!!!! Gatlinburg, Tennessee at Chapel at the Park. Just the two of us, an elopement wedding then a honeymoon in the mountains," Tom tweeted.
At the time, Tan France told Entertainment Tonight that "watching Tom with Abby was the most beautiful thing. You can tell how much he loves her."
Unfortunately, after a little over a year of wedded bliss, Tom announced that "the roller coaster ride is over."
We're sending all our best to Tom and Abby and thanking them for their love story because no matter how it ended, those two charmed a nation and helped many believe in the power of enduring love.