'Queer Eye' Couples Went On A Double Date And The Internet Can't Handle It
by Julie Scagell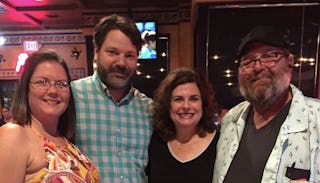 Image via Instagram/William Mahnken
This Queer Eye double date is the happiness we all deserve
If you've not seen the new Queer Eye series on Netflix, what in the hell are you waiting for? It's not just a makeover show, it's a full body rollercoaster of emotions that will have you completely invested in both the Fab Five and the men and women they're helping. So, when two of the show's favorite couples went on a double date over the weekend, fans understandably lost their collective marbles at the adorableness of it all.
If you aren't familiar, lifestyle experts Antoni Porowski, Bobby Berk, Jonathan Van Ness, Tan France, and Karamo Brown spend a week making over an individual in need of all things grooming, fashion, cooking, home improvement, and most importantly, confidence. And along the way, they come to terms with their own insecurities and the whole thing is so cathartic and wonderful that it should be required watching for the entire world.
And just when you think it couldn't possibly get any better, two of the shows most beloved couples, Tom and Abby (season one), and William and Shannan (season two) decide to go on a double date together and post pictures of the entire event, leaving all of us ugly crying into our margaritas.
The Queer Eye official Instagram page posted the adorable pic saying, "Omg the crossover episode we never knew we needed," and it is as amazing as you'd think. The still dapper foursome headed out for dinner at a Mexican restaurant in Georgia, enjoyed a couple of margaritas, because duh, and hopefully spent the entire evening discussing just how amazing they all are.
As fans remember, Tom was pining over his ex, Abby, for most of his show's episode. The guys got Abby to show up for an event at the end of the show, sparks flew, and the pair eventually got married (squeal). William's episode led to his asking girlfriend, Shannan, to marry him after years and years together and Shannan officially became a verb.
Social media obviously exploded at the pictures, because we all deserve this:
https://twitter.com/jetpack/status/1021210406956589056https://twitter.com/jetpack/status/1021408445067603970
I mean, look how happy they all are. It's too much and yet I want more. Mahnken made sure to give fans a whole lot of pics marking the occasion, one we hope becomes a monthly event.
Does anyone else see some sort of Queer Eye spin-off in the near future?