Karamo Brown Opens Up About Past Suicide Attempt In Emotional Video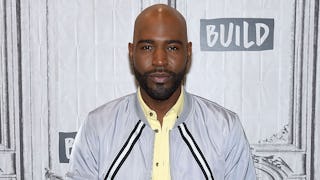 Image via Jamie McCarthy/Getty Images
Karamo Brown's video is inspiring, honest, and a must-watch
Karamo Brown, one of the beloved stars of Queer Eye on Netflix, is getting candid in an emotional video he posted to his social media accounts. In it, he reveals details about a past suicide attempt and shares honest and inspiring words of wisdom about mental health.
Yesterday, Brown shared the video on Twitter — in which he says he attempted suicide 12 years ago exactly. "Hey friends," he begins. "Today in 2006 I did attempt to commit suicide. You know, I was in a very dark place."
"I just felt like life could not get any better, everything that was happening to me was never going to change, and I tried to take my own life." He credits his two best friends for saving his life by calling for an ambulance and getting him up and off the couch.
He goes on to discuss mental health struggles everyone faces in today's world. "I want you all to know that as you see me on Queer Eye helping people with their mental health, it's because it's important to me," he says. "Because I know so many of us suffer from mental health issues and we just don't know where to turn."
Brown had some inspiring words of hope for his followers by assuring them that when you get the kind of help you need, things do get better. "Every day it seems darker and darker, but I want you to know that things do get better," he says. "If you get help and you do the work daily, your life can change. I'm living proof of that. And if you know someone in your life who's going through it, reach out to them. You could be their support."
It's so true. If you suspect someone you know or love is depressed, familiarize yourself with what depression can look like. Open up your mind to the knowledge that it presents itself in a variety of ways. Listen to them. Learn. And then show up for them. In whatever way you're able to, and whatever way they're receptive to — show up. Let them know they're loved and needed. Let them know they're not alone.
Brown ends his post by sharing that his own personal experience and background as a mental health professional means he knows better than most that we all need to make our mental health a priority. He cites the Trevor Project as a great avenue for members of the LGBTQ community in particular to reach out to for help.
https://www.instagram.com/p/BkgtFcvA31Z/?hl=en&taken-by=karamobrown
"Whether you're sad, depressed or suicidal like I was, you can make it through. There is a better day around the corner with support."
If you or someone you know may benefit from talking with professionals who can help, the phone number for The Trevor Project is 1-866-488-7386. The National Suicide Prevention Lifeline is 1-800-273-8255.