'Queer Eye' Picked Up For Season 2 And It Can't Start Soon Enough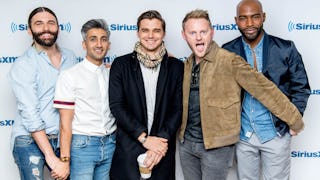 Image via Getty Images/Roy Rochlin
Queer Eye Season 2 is coming and we couldn't be happier
Grab your redneck margaritas, some Kleenex, and some type of hard object to bite down on when Karamo appears on screen — Netflix has renewed Queer Eye for a second season.
Hallelujah, sweet baby Jesus the Netflix hit Queer Eye, a reboot of Bravo's Queer Eye for the Straight Guy, has been picked up for season two. It doesn't have a release date yet, but that's a minor detail — we can all feel secure knowing the new Fab Five — Antoni Porowski, Bobby Berk, Karamo Brown, Jonathan Van Ness, and Tan France will all be back in our living rooms, making us ugly cry on the daily.
Queer Eye was brought back from the graveyard and we will be forever grateful to Netflix for it. Season one was all all about self-acceptance, for contestants, the Fab Five, and society as a whole. It reminded us while we've come so far since the original first aired, we still have work to do. That we're all just people dealing with our own shit.
There were moments that pulled us all together, like silently begging Abby to see past Tom's recliner and get back together with this sweet, sweet man, and Antoni's elementary, yet seemingly effective cooking skills. We collectively screamed at our television screens while sobbing into our new guacamole recipe, and we were better for it.
Netflix also announced they would be renewing Dope, Drug Lords, Nailed It!, and The Toys That Made Us, making it even more obvious we don't need cable ever again.
"These series are indicative of what we're trying to accomplish for Netflix unscripted: working with world-class producers to create the best unscripted shows on television," said Bela Bajaria, Vice President of content for Netflix. "These series elevate the genre with innovative takes on familiar formats. They deliver immersive and nuanced stories. They elicit so many emotions from viewers, from tears of laughter to tears of joy – and that's just 'Queer Eye.'"
Obviously, the entire universe is grateful that Netflix picked up a second season:
While there are sure to be more emotional and provocative stories captured next season, Karamo paying tribute to former Stoneman Douglas football coach, Aaron Feis, a former classmate of his when he attended the high school in 1999, will likely be included.
No matter who the boys visit in season two, we will all be setting our DVRs as soon as a release date is announced.