'Queer Eye' Announces 3rd Season With Adorable New Trailer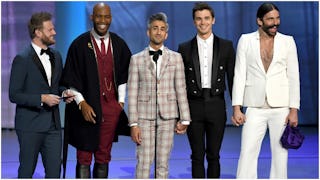 Image via Kevin Winter/Getty
Queer Eye is coming back next month and the whole internet is bursting with happiness
Let's all take a deep, deep breath, hennys. There's a third season of Queer Eye hitting Netflix on March 15th, which means so many happy tears, so many inspirational transformations, and so many scenes featuring Jonathan rocking a crop top. Here's everything you need to know about the Fab Five's return [insert avocado emoji].
Queer Eye's Twitter page released the official announcement, set along to the tune of Carly Rae Jepsen's new single, "Now That I Found You." They told viewers to get ready to love themselves, and I'm already preparing by put on a face mask, give away all of my deeply unflattering clothes, and rethink my bedroom's palette (thanks, Bobby).
The upcoming season was shot in Kansas City, Missouri and promises to bring all of the sunshine that the previous seasons delivered (still not totally over the emotions of that firemen episode).
"This season, these fearless ambassadors of taste are headed to Kansas City to bring their infectious brand of self-love, confidence and encouragement to a whole new roster of heroes," a Netflix spokesperson said, per Buzzfeed.
BUT WAIT. THAT'S NOT ALL. There's also a four-episode special that the Fab Five shot in Japan, which features the guys "bring[ing] their message of self-care and compassion to four Japanese men and women while exploring the country's rich culture and cuisine."
Unsurprisingly, the internet was feeling lots and lots of feelings about the return of Antoni, Jonathan, Tan, Bobby, and Karamo. Lots and lots of feelings.
Don't have enough patience to wait until March 15th? Totally fair. Here's a few behind-the-scenes filming moments from the upcoming season to keep you going. There was that time that the guys practiced their cheerleading moves.
That other time that they sang Backstreet Boys songs in the car.
At some point, they ordered a whole bunch of burritos and we all desperately wished we were there.
And then this. Be still my heart.
Here's hoping and wishing and praying that March comes really fast. In the words of QE's iconic theme song – all things do keep getting better.