'Queer Eye's' Tom And Abby Got Married So Get Ready For Your Heart To Burst
by Christina Marfice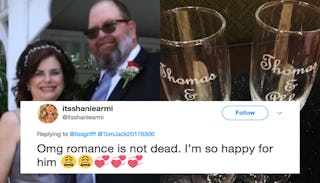 Image via Twitter/Tom Jackson
Tom and Abby are married for the second time and their wedding pics will make you sob with joy
There is one couple on this earth that has restored our hope in love, and that couple is Tom and Abby, featured on the first episode of the Netflix reboot of Queer Eye. Tom captured our undying love and support with his heartbreaking belief that "You can't fix ugly," and when he admitted onscreen that he was still in love with his ex-wife, Abby, we all stained our pillows with tears. But at the end of the episode, Tom and Abby went on a date! She loved his new look and his new apartment and, most importantly, his new confidence! All was well in the world.
And now, Tom and Abby are officially married! Tom made the announcement on his incredibly popular Twitter account, revealing that these sweet reality TV lovebirds eloped to Chapel in the Park in Gatlinburg, Tennessee. Honestly, that sounds so idyllic and perfect. And they just look so happy.
Before they headed off to a serene-sounding honeymoon in the mountains, Tom shared some wedding photos. And hoo boy, my heart was not ready for these first thing on a Thursday morning.
Just look at them gazing lovingly into each other's eyes.
BRB SOBBING FOREVER.
And this beautiful setting, and their adorable, tiny elopement cake and Abby's rock! Well now we know what Tom did with all his Netflix money because whoa.
Obviously, the internet cannot even handle its emotions at this news.
https://twitter.com/jetpack/status/994393898163159041https://twitter.com/jetpack/status/994396862122733568https://twitter.com/jetpack/status/994556512558346245
https://twitter.com/jetpack/status/994391738990125056
Honestly, though, Tom and Abby owe this to the world after the rollercoaster they put us all through. Soon after his episode aired, Tom tweeted that he and Abby weren't together, even though they loved each other, and a nationwide Kleenex shortage began while we all sobbed over the fact that love doesn't exist.
But was this the heartbreaking end for Tom and Abby? No it was not. A few weeks later, Tom tweeted a sweet photo of him and Abby together, announcing that they were giving their relationship another shot.
And it was only a week after that that Tom gave his loyal Twitter followers a sneak peek of his next plans for his relationship with Abby.
Tom and Abby are too good and pure for this world, TBH. And if you'll all excuse me, I need to pop a bottle of champagne and celebrate the perfect love of these two TV strangers, because it's 2018 and that's how we do. Congratulations, Tom and Abby!