Tom From 'Queer Eye' Got Back Together With His Ex-Wife And The Internet Can't Handle It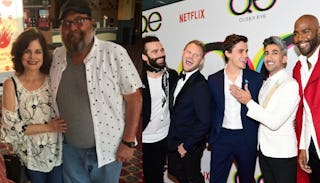 Image via Emma McIntyre/Getty/Twitter/Tom Jackson
Queer Eye's fan favorite Tom reunited with his ex-wife
Is your heart still brimming with sunshine after binging the entire new Queer Eye series on Netflix in one night? Have you been muttering "yassss queen" to yourself at various points throughout the day and also spending an inordinate amount of time examining each guy's Instagram? Well, you're definitely, definitely not alone. To add a cherry on top of this already delicious TV sundae, it looks like Tom, aka the sweet, endlessly endearing subject of episode one, is back with his ex-wife Abby — and the Twitterverse is celebrating up a storm.
In case you need a recap: Tom and Abby got divorced way before Queer Eye started filming. However, by the time The Fab Five arrived on the scene it was pretty clear that there was definitely still some love there. The guys spruced up Tom's look, gave him a totally revamped house, and set him up on a lovely, romantic date with Abby. It was beautiful. We were all crying. Tom + Abby = forever.
Since then, Tom announced on Twitter that the two had split up but he still loves her dearly. It was — perhaps — the nicest break up message you'll ever read in your life.
"Abby and I are no longer together," he said. "She will always be the love of my life. I will always love her more than anything!!!!!!!" And thus millions of hearts around the world broke.
BUT WAIT. Almost a week later, Tom took to Twitter to announce that the couple was back together again. "So happy to say that Abby and I are reunited we've loved each other for many years and want to spend the rest of our lives together!!!!!!!!" he wrote.
Don't toy with us Tom.
Twitter erupted in cheers — and also some pretty stern demands that they please never ever break up again.
https://twitter.com/jetpack/status/971228438223781888
I feel like we really don't need to worry about this couple's future seeing as Tom has been consistently posting pictures of Abby from his archives — even after they broke up. Find yourself a friendly ex-boyfriend who will happily still post stunning pictures of you on social media.
*Sigh.* In the immortal words of Jonathan, yassss queen yassss. Also, can we please get season two ASAP? The world needs it.