The 'Queer Eye' Season 2 Trailer Just Dropped And It Will Make You Cry Happy Tears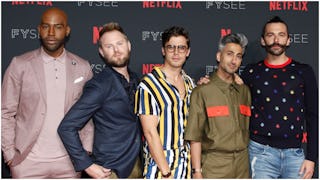 Image via Tibrina Hobson/Getty
The new Queer Eye trailer will make you feel so, so many things
The Fab Five are heading back to Netflix really, really soon which means you need to mentally prepare yourself for all the laughing, sobbing, and pillow squeezing that you're about to do. But, wait, hold on. Don't think it's even possible that you could feel any more feelings after season one? Just WAIT until you see the trailer for Queer Eye's season two trailer.
The whole gang is returning to the small screen on June 15th (calendar marked, all plans canceled). They're back in Georgia and this time they're giving a transgender man a makeover, renovating a church, giving a straight woman a makeover, and making just about everyone cry so many happy tears throughout.
Okay, there's a small chance that this second season might manage to outdo the first season. Can you believe?
And yes, that is a proposal moment you saw. Karamo Brown told Marie Claire that he helped one of the participants propose to the "love of their life," which resulted in lots of "happy, joyful cries." Seriously, June 15th is going to get real, real emotional for all of us.
Brown also added that viewers are going to get to know the Fab Five even better this season, and can I get a yaassssss queen? There's really only so many times I can stalk all of their Instagrams (hi Antoni).
"The editors were very clear in making sure they added a lot more about each of our journeys and personal lives—you get to see more of our quirks as a group that I don't think you got to see in the first season," Brown explained.
But, sadly, we won't ever get to see the full extent of their group dynamic. Tan France told Vogue that the audience is really only experiencing a snippet of the Fab Five's relationship. "What you see in the show is only a tiny representation of how much we truly love each other, because we're focusing on the hero [the subject of the episode]," he said.
I mean, not that we need any convincing that this group of men love each other. Again, all you really need to do is stalk all of their Instagrams on a daily basis (no judging, we're living in otherwise depressing times).
*Sigh.* Get ready to feel all the joy, sunshine, and positivity very soon. You might find yourself muttering "yahsss queen" over and over to yourself while watching, and that's totally, totally okay.
This article was originally published on