Questions You Should Be Asking Childcare Providers During COVID-19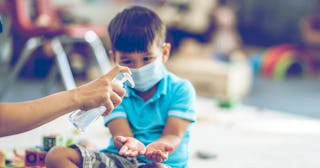 Scary Mommy and FatCamera/Getty
We all have questions, and lots of them, for those who are charged with caring for our kids. We have them for teachers and school administrators. We have them for babysitters and during playdates. With COVID-19 still raging across the United States, with pockets of hope for letting up here and there, life is resuming for parents in new ways — ways that we may not have much confidence in moving forward with, but we must nonetheless.
According to ChildTrends, a national research organization focused on improving the lives of children, there are over 3 million childcare centers across the United States. As some of these centers remain closed due to the pandemic, and parents slowly return to work, we have decisions to make. There are conversations to be had, like the one I had with Dr. Calvin Moore, Jr., Chief Executive Officer, Council for Professional Recognition, a national organization working to ensure that all professional early childhood educators and caregivers support the developmental, emotional and educational needs of our children. Together, we can better understand what to ask our childcare providers and centers to help stop the spread of COVID-19, but to also feel more secure in our need to take our kids to a childcare center.
Of course, there are tried and true ways that we can feel more comfortable leaving our kid at a childcare center, ways that before COVID-19, many centers were doing anyway — like providing all day access to videos so we can check in on classrooms during the day, providing classroom phone numbers so we can call, and first day check-in calls from staff to quell the voice in our heads that our child is not all right. There are also ways providers can make parents simply feel better, especially as we also combat our worries about COVID-19. Dr. Moore suggests three specific ways providers can help parents also transition better into this new normal:
Providers can allow parents to take a tour of the facility, either in person or virtually, so they can see what the new environment will look like.
The provider can also share photos with parents of what the new classroom set-up will look like. Parents can show their children the pictures to help them become comfortable with the different settings and the child can ask any questions they may have.
Providers should keep the lines of communication open with parents and families. Parents may have suggestions for ways to improve their children's experience during these uncertain times.
As parents, just like our kids, we need to feel secure in our surroundings and feel safe and taken care of. Childcare providers have a huge role in ensuring that not only our kids feel at ease and taken care of, but that we do as well. And with our fears of COVID looming, there are some questions we might be fearful of asking, but are essential to understand the safety measures centers are taking to help flatten the curve.
Dr. Moore says that asking the right questions is important, and recommends the following inquiries to help make sure that day care centers are following all the necessary guidelines and protocols:
Is the center conducting health checks on its early childhood educators and other staff members to make sure they are healthy?
What are the specific health checks being used for staff?
Do educators and staff need to self-certify their health before arriving each day?
What are the new protocols and procedures that centers will be following now in the classroom?
How is the center keeping health-care practices updated, and how will parents know about the updates as they happen?
What type of training have the educators gone through?
These necessary questions will continue to improve communication between childcare centers and parents, giving us a peace of mind that will allow us to better get through our days at work, and more confidence in the systems in place to keep everyone healthy.
Parents are sending their kids to childcare centers amid the pandemic because they have no other choice — like Sarah Parisi, a labor and delivery nurse at Bridgeport Hospital in Connecticut. She shares her experience of making the choice, as a frontline worker, to send her three-year-old son back to school. The childcare center she sent her son to never closed.
"It's a tough decision to have to send your child to school given all that is going on," she tells Scary Mommy. "However, my husband and I are both necessary workers, so we have no choice." She says that her son very much missed the social, emotional, and learning aspects of school while being off for five months and was very eager to go back, which made it much easier. But what made her feel most secure was the fact that the school has been open this entire time with no incidents and takes many precautions, including no parents in the school, taking temps daily, lots of extra cleaning, and mask-wearing by the staff. "As parents we have to try and make the best decisions we feel are best for our individual needs, and hope they are the right ones," she says.
Dr. Moore says that there are things parents need to do to prepare their children, too. The ever-present face masks, for example; for kids, it can be challenging to interpret emotions when their teachers' and caregivers' faces are covered. Dr. Moore notes, "Many children are seeing more and more adults and other children with masks on; however, it is difficult for young children to read facial expressions through a mask. So, adults should talk to children about why the child's teacher must wear a mask." He also recommends that parents/guardians discuss why the teacher will no longer be able to do things such as give them hugs and hold their hand, and why they have to keep personal items such as toys, games, and water bottles at home. We are navigating a new normal together and are dependent on open and honest communication to keep everyone safe.
As Sarah reminds us, we each have choices to make for our kids, and each one is individual to our familial needs. Childcare centers and their staff provide a service to our communities that are essential for our livelihoods as working parents, but also the social, emotional, and mental health of our kids. We can only move forward in the safest of ways if we do so masked, ready to learn, and asking the difficult questions that will help keep us all safe.
This article was originally published on