R. Kelly Has Officially Been Indicted On 10 Counts Of Child Abuse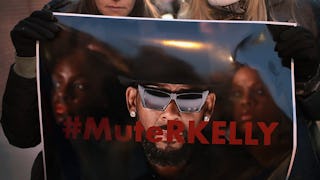 Image via Scott Olson/Getty Images
After nearly two decades of allegations of abuse, R. Kelly is finally facing consequences
R. Kelly has been officially indicted on 10 counts of aggravated criminal sexual abuse. Though the singer has been in trouble with the law for sexual abuse before, these charges stem from a newly discovered that shows the singer allegedly having sex with a 14-year-old girl.
He was formally indicted in Chicago earlier today. The video in question was discovered by attorney Michael Avenatti. A spokeswoman for the Cook County State's Attorney Kim Foxx confirmed to the AP that the charges had been filed.
Avenatti responded to the indictment on Twitter:
Last month, the harrowing documentary "Surviving R. Kelly" aired on Lifetime, causing an uproar on social media which led to the hashtag campaign #MuteRKelly. Soon after, his recording label ended their working relationship with Kelly.
The documentary focused on the long-standing allegations of sexual abuse and misconduct against Kelly and his predation on teenage girls. Several victims came forward in the documentary, describing their shocking experiences of abuse and a cult-like atmosphere where the singer cut them off from their families and subjected them to continuous trauma.
For his part, Kelly has denied allegations of sexual misconduct involving women and underage girls for years.
The dialogue surrounding Kelly after the documentary aired brought forth many startling, important points about child predators. Many women took to Twitter to share their stories.
Though there have been accusations and rumors of abuse surrounding him for years, R. Kelly has only been charged with a crime once before — when he was on trial for multiple counts of child pornography, which stemmed from a different video of the singer having sexual relations with an underage girl. It took six years after the video and allegations surfaced for him to finally be indicted on those charges in 2008.
During that trial, the teenage victim in the video did not testify against R. Kelly. The jury acquitted him of all counts and Kelly was able to walk free and clear back to his life without consequence.
Two weeks ago, Avenatti announced the existence of the new video, telling USA Today that the video surfacing was a "bombshell of epic proportions."
Today's indictment of R. Kelly comes after nearly two decades of allegations of sexual abuse. The judge presiding over his case issued a no-bail arrest warrant, which means the terms for his current arrest do not allow for anyone to bail him out. He is next due in court on March 8.