'Crazy Ex-Girlfriend's' Rachel Bloom Won An Emmy... And Announced That She's Pregnant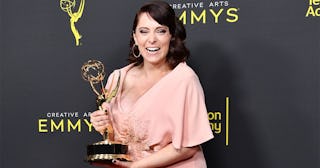 Amy Sussman/Getty
Rachel Bloom is now an Emmy winner and a mom-to-be, and we could not be more thrilled
So to say that Saturday was a pretty big night for Rachel Bloom might be a little bit of an understatement. The writer, producer, creator, and star of Crazy Ex-Girlfriend (which, side note, if you haven't seen this show, start now. It is absolutely incredible) finally snagged a couple of Emmys for the show's fourth and final season.
One win was for the season's theme song, which is newly written for each season. The other was for Original Music and Lyrics for her song "Antidepressants Are So Not A Big Deal" from the fourth season's 13th episode, "I Have to Get Out." For those who are uninitiated about Bloom and Crazy Ex-Girlfriend, go ahead and give it a listen and see just how realistically this show tackles things like mental health, therapy, and medication — it's one of the many things that made it one of the best shows on TV. For those of us who have already watched the entire series, enjoy this little throwback to what is now an Emmy award-winning song.
And next time you're having a down day, just remember Rebecca's therapist's sage advice: "Honey, you're not special 'cuz you're sad."
So winning that award would already have made this a pretty big night for Bloom. But that's not all the good news she had to share.
While backstage speaking to reporters about her win, she dropped just a minor bomb, casually, into the conversation about how awesome she is: She's pregnant!
Yep, just right there in the middle of her press interview, she was all, "Also, uh, I'm pregnant. So that's what's next for me." Obviously the cheering in the room just about drowned her out at that moment.
She continued, "I mean, might as well do it at an Emmy press conference, right? I was gonna post an Instagram, but yeah, I'm three months pregnant."
She did also post that Instagram though, and the way she made the online announcement is just very Rachel Bloom.
Bloom also referred to the baby as a "she," so did she sneakily and/or accidentally also give us a sex reveal? Only time will tell.
This will be the first baby for Bloom and her husband of four years, Dan Gregor. They got married in 2015 after six years of dating.
Congratulations, Rachel Bloom and Dan Gregor. We can only hope this means another hilariously real show is coming, but this time about being a mom.