Rachel Cargle's Concept Of 'Humane Scheduling' Is Inspiring AF
by Leah Campbell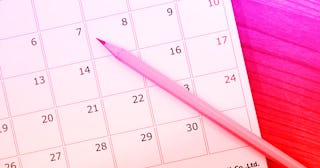 Scary Mommy and Chainarong Prasertthai/Getty
It's been almost a year since the world shut down due to COVID-19. A year of mask-wearing, social distancing, and adjusting to working from home.
At least, for those lucky enough to still have jobs at all.
What we've learned in that year is that we can do just about anything—but that doesn't mean we should always have to.
I've worked from home for over seven years now, so for me the only adjustment was doing so with my kiddo now also home with me. Not to say that hasn't been a huge adjustment, because of course it has been—but the actual working from home part is something I personally already had down.
I like rolling out of bed and having my office right there. I like managing my workload without anyone looking over my shoulder. And I like communicating with most of my clients via email.
For me, being a work-from-home mom is the best of all worlds. I get to have a career I'm passionate about and still enjoy the flexibility I need to be the kind of mom I want to be.
But not everyone feels that way. I have friends for whom the adjustment to working from home has been hard. They miss their offices—and the quiet hours away from constant interruptions by their kids. They miss being able to quickly pop into a colleague's office and ask a question. And they miss the collaborative spirit of all being in the same space with the people they work alongside.
They also really miss the separation between work and home life that allowed them to have a better work/life balance.
These are complaints public academic, philanthropic innovator, and social entrepreneur Rachel Cargle understands all too well. And it's why she implemented a "no meeting Friday" policy at her company.
In a recent Instagram post expanding on the policy, she wrote:
"The language my team has been using (and what you'll see in our auto reply for incoming emails) is: humane scheduling."
Humane scheduling. It's such a novel concept, but it shouldn't be—shouldn't all companies be striving to treat their employees more humanely?
The rest of her post read:
"As we work from home, zoom meetings seem to be back to back. In the past we would never have this expectation of each other especially when there are so many other factors being braided into our lives outside of the workplace (pandemic anxiety, caring for children or loved ones full time, witnessing & experiencing ongoing racial trauma).
*
So Fridays are left for what needs to be done between the meetings: the actual work being discussed in all of said meetings, rest, creative thinking time, breathing, clearing out ones inbox, etc.
*
I want to remind us all that we are capable and often times responsible—if only to ourselves—to reimagine what normal looks like. That what always has been doesn't have to be what always is. What we know is often rooted in systems that were never ever meant to serve us."
She went on to thank her team and ask her readers how they have reimagined things over the last year. And honestly? It was all so damn refreshing.
People shouldn't be forced to exit out of a long workweek with a pile of work still left to do. Work they will either have to pick up over the weekend, or work that will be weighing on them over that weekend.
They should be given the time to complete work discussed during those endless meetings.
And if working from home is the new normal, they should have superiors that let them know their time is respected.
Working from home can be incredibly freeing, but it can also mean never having a true escape from the work itself. And that's tough. After a year of more people working from home in the United States than ever before, it's time for companies to really recognize and address some of the challenges that can accompany having your home and office exist in the same place.
And implementing no-meeting Fridays is just one way to do that. One way to reimagine what normal could look like and to give employees the freedom they need to enter the weekend able to breathe.
Editor's note: You can follow Rachel Cargle on Instagram here, and you give to the Loveland Foundation here. The Loveland Foundation prioritizes the mental health and healing of Black women and girls, making healing modalities like therapy more accessible.
This article was originally published on