'Bachelor' Fans Drive Rachel Lindsay Off Instagram After Harassing Her Online
by Julie Scagell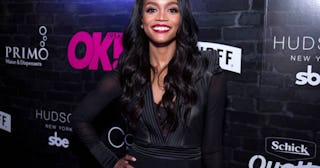 Santiago Felipe/Getty
Rachel Lindsay says she's been receiving hate mail and messages since Chris Harrison stepped down from The Bachelor
Rachel Lindsay — the first Black Bachelorette — left Instagram after being repeatedly harassed by Bachelor Nation over Chris Harrison stepping down.
Harrison announced recently that he's "stepping aside" from his hosting duties on the show after making a number of racist comments while attempting to defend Rachel Kirkconnell, a contestant on the Matt James' season of The Bachelor over her attire at an "Old South" antebellum plantation-themed party in 2018. In an interview, Lindsay interviewed Harrison for Extra, he defended Kirkconnell, using terms like "woke police" and essentially defending someone's right to be racist.
Harrison apologized afterwards saying he was wrong for "speaking in a manner that perpetuates racism," but Lindsay said his apology wasn't nearly enough. "During that conversation, his privilege was on display. He never gave me room to talk, and he never gave me room to share my perspective. He wasn't trying to hear it, he was just trying to be heard," Lindsay later said during an episode of her podcast, Higher Learning.
On Friday, Lindsay's friend and co-host of their podcast, Van Lathan, posted a video defending the former Bachelorette and sharing his disbelief that people would go to such measures. "Rachel Lindsay disabled her Instagram earlier today. She did it because that's how much hate she's getting from Bachelor fans who are spamming her with all kinds of rude and hateful things," Lathan said in part. "Rachel is not responsible for Chris Harrison, a 49-year-old man who can't read the room in these 2021 times. She's not responsible for that."
Lathan went on to say that it's not up to Lindsay to make excuses for other people's words or behavior, noting, "You're going after the wrong person."
Before he announced he was "stepping aside" from the show, Harrison issued a public apology, saying in part, "I have spent the last few days listening to the pain my words have caused, and I am deeply remorseful. My ignorance did damage to my friends, colleagues and strangers alike. I have no one to blame but myself for what I said and the way I spoke."
Unfortunately, even with his apology and admission, fans choose to go after Lindsay rather than direct their anger at the person who actually spoke the words he is now apologizing for.
Lindsay has said that Harrison's stepping away as host is the "right decision," noting that there have been "racist issues" on the show since its inception. The network hasn't announced who will replace Harrison on the upcoming After the Final Rose special for James' current season.
Lindsay's friend Lathan went on to say that the ABC dating show is "not worth harassing someone over," adding, "Rachel, we love you, we're with you."