Rachel McAdams Will Star In The 'Are You There God? It's Me, Margaret' Movie Adaptation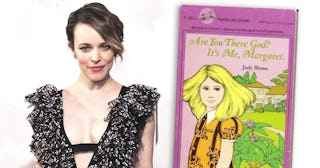 Anadolu Agency/Getty and Dell Yearling
The Are You There, God? It's Me, Margaret movie is coming, and it will star Rachel McAdams and Abby Ryder Fortson
We all know there is one Queen when it comes to coming-of-age literature: Judy Blume. Her masterpiece YA novel, Are You There, God? It's Me, Margaret, came out 50 years ago, and is just now finally getting the movie treatment it deserves. And while this seems to be a slow moving project (it was first announced all the way back in 2018), the movie adaptation we can't wait to see has finally been cast — and Rachel McAdams and Abby Ryder Fortson will star.
Fortson, who is best known for her role in Ant Man, will play the title character Margaret, while McAdams will play her mother, Barbara. Now that we're envisioning this casting, it's honestly kind of perfect. We're even more excited to see the movie now.
Director Kelly Fremon Craig released a statement last week to talk about the casting decisions, and she sounds just as excited about this as we are.
"Abby is the kind of extraordinarily rare talent that comes along once a generation. The minute she walked in the room, she knocked us off our feet with her humor, vitality, and instantly lovable presence. We knew we'd found Margaret," she said.
She added, "Together with Rachel McAdams' exceptional talent for creating indelible characters that make you laugh out loud, bawl your eyes out, or both — there couldn't be a better combination to bring Judy Blume's much-beloved characters to life on screen."
Yeah, we can see it. I mean, even the Queen Judy Blume herself is stoked on this news.
"As the cast comes together my excitement grows," she said in a statement of her own. "Abby is funny and tender, strong yet vulnerable. She IS Margaret. And Rachel – wow! – does it get any better? A funny, loving, sexy, real woman who is also a mom. I can't wait to see these two playing mother and daughter. It all began with trusting Kelly and Jim and they've proven how much this project means to them, which means everything to me."
When the author of the book is that excited, how can you not be yourself?
According to news reports, production on the movie is set to start in April, but that means there's no word yet on when it will be released. We've already basically waited 50 long years for this, though, so a few more months probably won't kill us. We hope.
This article was originally published on