Get Ready To Sob: Rachel Platten's New Song Is A Tear-Jerking Ode To Motherhood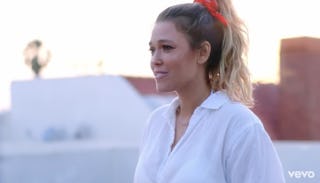 Image via YouTube/Rachel Platten
Rachel Platten releases new song dedicated to her unborn daughter
If you thought you might get through today without crying, you're wrong — because Rachel Platten just released a new song and it's a sweet tribute to motherhood and her unborn daughter.
Gather every single tissue — you're going to need them.
The "Fight Song" singer, now in her third trimester, debuted the sentimental tune on Good Morning, America this past Friday. It's called "You Belong" and honestly, get ready to get choked up.
I'm patiently waiting for you to arrive
I wanna meet you so much I could cry I wonder whose hands and whose eyes you will have I wonder if you're gonna smile like your dad Nothing you ever do will be so wrong You belong, you belong
Is someone chopping onions? Like, an entire bag of them? Good grief.
Platten says that the song was initially not meant for anyone else's ears, but decided to share it anyway. "It was written just for us and I never intended for the world to hear it because it felt so personal," she explained on Instagram. "But sometimes that's exactly the art that craves other ears."
Platten used footage in the video for the song from tons of home videos she and her husband, Kevin Lazan, have made over the course of her pregnancy. These clips of her hearing her baby's heartbeat may have made us sob a little. OK, a lot.
The singer announced her pregnancy over the summer and has been very candid ever since with her thoughts on impending motherhood.
"This is one of my most exciting announcements, but also one of my most vulnerable. So here goes…. I am pregnant!!" Platten wrote. "I am overwhelmed with love, joy and happiness about our baby. It's a total miracle that I'm growing a human and my husband and I couldn't be more thrilled."
The video for "You Belong" didn't just document the adorable parts of pregnancy — it included clips alluding to Platten's struggles with morning sickness and exhaustion. All the fun parts of having a baby, right? Ugh.
But the end is almost here and as Platten's due date draws closer, we hope she will share more, including adorable baby photos, of course. Until then, we'll be listening to this gorgeous song on repeat — and sobbing our eyes out.
This article was originally published on