Rachel Zoe Sends An Important Message To Working Moms: Ask For More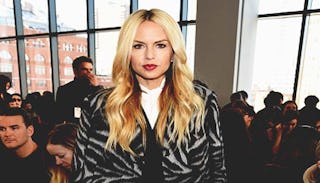 In 2014, five of Rachel Zoe's staffers became pregnant. Instead of panicking about what that meant for her company — she decided to build a nursery. We've heard before of famous mothers having a nursery for their own children, but Zoe stepped it up a notch: she built a nursery for all of her employees with children at her West Hollywood office, right next door to her studio.
Zoe made a name for herself as a fashion stylist for the rich and famous. Bravo gave her her own show, The Rachel Zoe Report, and she became synonymous with women and style. She's since collaborated with several high-profile designers, written books, opened a salon in NYC, and launched her own daily online fashion paper: The Zoe Report. She's a powerhouse businesswoman, who in the midst of all of her success, gave birth to two children. That's right: she's a 43-year-old mother with two children under four.
When her staffers became pregnant, she decided to step up so that they wouldn't have to make a choice between children and career. "I wanted to create an environment where these new mothers wouldn't have to make a choice between career and motherhood," Zoe wrote in The Zoe Report. "I've been fortunate enough to be able to grow my company from just a few people to more than 40 while having my kids (and my husband) by my side, and so I knew I had to do everything in my power to give my staff that same luxury."
The thing is, she didn't have to. But she decided to invest in her staffers with growing families, instead of panicking about what it meant for her company. To use the over-used terminology, she "leaned-in" to the changing dynamics of her company. And in doing so, she made an argument for professional working moms everywhere: ask for more. She says to working moms,
"My advice to you: Never apologize for being dedicated to your kids and challenge those around you to not only acknowledge, but celebrate your ability to be a mother and an asset in the workplace. Ask your employers to help you do the job the best you can, whether that means providing adequate healthcare and benefits for you and your family, opening a nursery in your office or allowing you to partially work from home in order to be with your children."
As working mothers, we've been taught not to expect anything from our employers, because we live in a country that doesn't demand they support working families. But like anything else about our society, this can change if enough of us start to demand more. Why should we simply accept no paid maternity leave? Or the idea that we have to choose between a successful working career or raising a family, because most of us can't afford to do both?
Last week Johnson & Johnson announced a significant upgrade to its parental leave policy in the United States: "Starting May 1st, all new parents – maternal, paternal, and adoptive – will have the opportunity to take eight additional weeks of paid leave during the first year of the family's birth or adoption." Moms who give birth can take up to 17 weeks off. And the time doesn't need to be taken consecutively, so parents can have some much needed extra flexibility in that trying first year of having a child.
President Obama recently said at a working families rally that we need to bring companies "stuck in the last century into this century." He's right. Our family dynamics have changed, and companies need to follow suit. Johnson & Johnson proves that it's possible for large companies to invest in the work-life balance of families that they employ. Rachel Zoe proves it can be done on the smaller scale. As professional working parents, we all need to start asking for more, to make work-life balance requests seen more as necessities, rather than "entitled" demands.
Related post: 10 Things Working Moms Don't Want To Hear
This article was originally published on