This Collection Of Disney-Themed Kids' Clothes Is Next-Level Adorable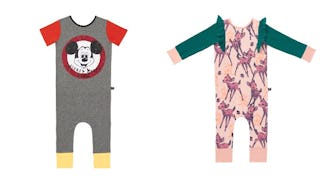 Image via RAGS
Your little one needs these super cute Mickey and Bambi rompers and t-shirts
We kind of can't get enough of adorable Disney clothing and accessories. But sometimes, it can be a bit too cartoonish and not as high on style as we'd like — which is why this new line of Mickey Mouse and Bambi-themed clothes is totally stealing our hearts.
RAGS is a clothing line for kids (and a few things for adults too!) that prioritizes comfort and style, making sure kids looks and feels amazing in their outfits. And that parents don't have to struggle dressing them. Their founder Rachel Nilsson designed RAGS with kids in mind. "As a mother of a wriggly toddler, I was over putting my little dude in a one-piece with snaps at the bottom. I loved the idea of a one-piece, but hated the hassle. So, I created my own," she says.
And now? RAGS' designs include incredible one-of-a-kind Mickey and Bambi patterns. We can hardly even handle the cuteness.
The Mickey collection is in honor of the character's upcoming 90th anniversary. The limited edition items, available beginning November 2nd, will probably sell out quickly — because just try finding outfits like these in any old store.
Not to be outdone by the Mouse's big milestone, the Bambi collection is its own version of totally precious.
The line is available starting October 16th, so you can get a little Disney fix before the Mickey collection is live.
Like all of RAGS' clothing, these outfits feature the brand's "patent-pending neckline that makes it very easy to pull on and off; no buttons or snaps." That means no fuss while getting dressed — and the unique patterns are a definite bonus.
And if you want to coordinate with your rug-rats, there's this cute adult tee too.
Make sure to check the site on November 2nd if you're into the Mickey garb — and head on over right now if you want to snap up some Bambi cuteness for fall.