What A Beautiful Way To Celebrate A Rainbow Baby
by Maria Guido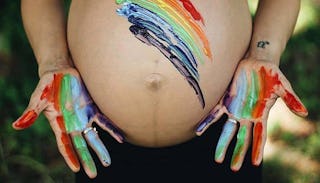 Image via Facebook/ Ashley Maiso Photography
Photographer shoots image honoring mom-to-be's "rainbow baby"
Once you've experienced a pregnancy loss, pregnancy itself can be very stressful. Loss of a child during pregnancy or shortly thereafter is still something that many people have a hard time acknowledging and expressing. It's a unique pain — a void. And when you become pregnant again, there are so many emotions you experience that are just difficult to explain.
Some people prefer to focus on each pregnancy, and leave the painful memories of loss behind. Others like to celebrate the baby they loved — and honor that baby in some way. There is no "right" way to deal with a pregnancy after loss. But for those who choose to remember the baby they lost in some kind of material way, this idea for a "rainbow baby" image is just beautiful.
"Before this photo session, I had never heard of a rainbow baby," photographer Ashley Maiso shared with the Facebook community, Birth Without Fear. "Bella shared her heart and filled me in on the loss of her first child a few years ago. As she gets ready to bare her second child, she wanted to honor and celebrate the life of the precious babe she had the privilege of carrying in her belly for a season."
I had three miscarriages, and the thought of them still stings, even though I am now a mother to two beautiful, healthy babies. For a time I would push the feelings of sorrow over my lost pregnancies away, because I felt so fortunate to finally have children — and I knew there were so many people struggling to have kids of their own. But the thing is, you are allowed to own your experiences. We don't have to push those babies we lost out of our minds. This is such a touching image because it acknowledges, yes — this baby existed. There is loss, but there is beauty ahead.
"Naturally, I wanted to be sad over the tragedy – but instead I couldn't help but snap my photos in awe of this beautiful form of memorabilia," Maiso says. "A rainbow baby is a child born after a miscarriage, stillbirth, neonatal death or infant loss. The term has encouraged parents to share their stories of loss – and the babies that followed."
"After the storm, there's a rainbow."
This article was originally published on