This T-Shirt Is An Adorable Way To Honor A Rainbow Baby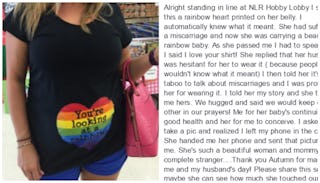 Image via Facebook
A "rainbow baby" t-shirt brought two women together to talk about their miscarriages
The story of a chance meeting of two women at a craft store has gone viral and the reason they connected is a special t-shirt celebrating something most moms who've lost a child are familiar with: the rainbow baby.
Courtney Mixon was standing in line at Hobby Lobby when she spotted a woman wearing a black t-shirt with a rainbow heart graphic on her abdomen. Splashed across the heart was the phrase, "You're looking at a rainbow!" In her now-viral Facebook post, Mixon says, "I automatically knew what it meant."
The shirt, which can be purchased online, means that the woman wearing it, Autumn Safley, has suffered the loss of a child before becoming pregnant again. The "rainbow" is the healthy pregnancy after one or more miscarriages. Mixon writes, "As she passed me I had to speak up. I said, I love your shirt! She replied that her husband was hesitant for her to wear it (because people wouldn't know what it meant). I then told her it's so taboo to talk about miscarriages and I was proud of her for wearing it."
Safley tells Babble she lost two babies last year back-to-back, one before Thanksgiving and the other after the New Year. She's now due in early December with her "rainbow" and the outing at Hobby Lobby was her first time wearing the special shirt after her husband expressed concern that no one would know what it meant.
But Mixon knew, as she suffered a miscarriage in August 2015, right after she and husband Jon celebrated their fifth wedding anniversary. Later, the couple found out that Courtney suffered from PCOS, a hormonal condition that can make it difficult for a woman to become pregnant.
Safley says, "As I was walking into Hobby Lobby, I saw Courtney. We made eye contact and I noticed she had big tears welled in her eyes. I walked over to her and asked if I could hug her."
The women shared their stories of loss with Safley providing some much-needed encouragement for Mixon. "I told her to not give up, never lose hope, and that God had a perfect plan for her and her little family."
Mixon is currently struggling with the fallout of her syndrome and what it means for her future ability to conceive. "I'm still learning how to cope," she tells Babble. "My husband has to remind me that when others announce their pregnancies, 'It's not our story, stick to our story. Our time will come.'"
Knowing how hard it must be to stay positive during a pregnancy after loss, Mixon let her new friend know she admired her for being so brave in wearing her shirt. "It's so taboo to talk about miscarriages. I'm proud of you for wearing it!"
After Safley let Mixon take a photo with her own phone to send to her (Mixon had left her phone in the car) the women parted ways. Mixon says, "We hugged and said we would keep each other in our prayers! Me for her baby's continuing good health and her for me to conceive."
Another happy result of their chance meeting is all the women sharing their own experiences of loss and thanking them for being so candid in telling their stories. "My inbox is flooded with messages. I've had complete strangers reach out to me, and opportunities to connect with people all over the world," Courtney says.
Safley is happy for the chance to bring both miscarriage and pregnancy after loss out in the open. "Miscarriage and infant loss is nothing to keep quiet about or suffer in silence with! I am thankful that walls are being torn down and awareness is being raised for this very common and very prominent issue!"
As a mom who's miscarried and is terrified to become pregnant again for fear of another loss, their message resonates. It takes a lot of strength to even try for another baby after losing one, let alone get through a whole pregnancy with all the new worries that experiencing a prior loss can bring. I'm not quite there yet with being ready to try again, but stories like this give me hope. And I'm eternally grateful for the courage of women like Autumn and Courtney in sharing them.
This article was originally published on