You're Going To Be So Jealous Of This Woman's Gorgeous Rainbow Apartment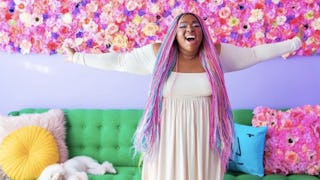 Image via Instagram
We hope she needs a roommate
When you hear the phrase "rainbow apartment," you probably imagine something totally juvenile that only a kindergartener would appreciate. That's absolutely not the case with designer Amina Mucciolo's mesmerizing decor.
The 34-year-old's Los Angeles home has become an internet sensation because it's simply stunning. She showcases her entire rainbow life on her popular Instagram account, and we can't get enough. The apartment somehow manages to make our whimsical, childhood wishes for a magical dream home made of rainbows into a cheery and sophisticated space suited for inhabitants of any age.
We'll shut up now so you can feast your eyes on the glory. Because our words can't possibly do justice.
Like, is she even kidding? We want to literally jump into these photos.
Mucciolo tells The Daily Mail, "It's really important to me that where I live is a reflection of me and my personality, and also of my husband," she says. "We like for our space to be fun and happy and inspiring."
Yes, she lives with a husband, but we're hoping she lets us move in too. Small details. Not at all an insurmountable obstacle.
Mucciolo works as a social media influencer through Instagram and YouTube while also creating colorful items like tassel garlands, piñatas and party decor that she sells.
"I wanted this place to feel like a living art installation," she says. The apartment's vibe is also inspired by spring, Mucciolo's favorite season. 'There's something about what happens in spring — the holidays, the colors, that fresh feeling of happiness. It's so inspiring for me."
Inspired indeed.
As far as the extremely girly vibe, Mucciolo's husband is fully on board. "My husband is such a good sport," she says. "He loves it. It makes him happy too. He's been doing this business with me, so its what our lives look like now."
He kind of has to love it. You can't really go halfway with your feelings on a totally rainbow-colored living space. We're glad he's into it, though. Because that means Mucciolo is free to continue spinning her magic.
She says the kitchen was inspired by her love of My Little Pony and Carebears, which explains the figurines perched atop the cabinets. In perfect rainbow order, of course.
And her rainbow love doesn't stop with her apartment. Mucciolo's entire Instagram is a freaking delight as she extends her love of color to basically all corners of life.
Keep doing you, Amina. We are obsessed.
This article was originally published on