Rainbow-Inspired Names For Your Colorful Cutie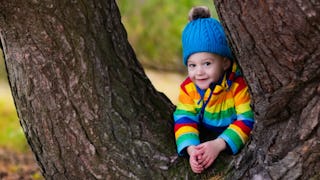 FamVeld/Getty Images
Looking for color names that are as vibrant as your new bundle of joy? These unique choices are sure to brighten your day.
No matter where your little cutie falls on the spectrum — whether you've got a bright and bouncy Goldie or an intense and solemn Raven — color names are the perfect way to convey your baby's sparkling personality.
Naming a baby can be scary. We can help! Check out our baby name database here.
Amber
Ash
Blue
Cobalt
Copper
Coral
Dove
Emerald
Fawn
Fuchsia
Garnet
Goldie
Gray
Hazel
Hunter-unisex
Indigo
Ivory
Jade
Lavender
Lilac
Mauve
Moss
Navy
Olive
Peach
Plum
Rainbow
Raven
Rose
Ruby
Sable
Saffron
Sage-unisex
Sapphire
Scarlet
Sienna
Silver
Teal
Topaz
Turquoise
Violet
This article was originally published on