The Wreck-It Ralph 2 Trailer Is Here And It's Full Of Disney Princesses
by Valerie Williams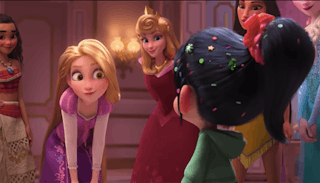 Image via Facebook/Moviefone
The new Wreck-It Ralph 2 trailer includes several Disney Princesses
The second trailer for the upcoming movie Ralph Breaks the Internet: Wreck-It Ralph 2 is here, and there's a lot to unpack. Namely, the appearance of several of your favorite Disney Princesses, all together at the same time.
Your kids are going to lose it. Heck grown adults are going to lose it.
The sequel to 2012's Wreck-It Ralph has been highly anticipated, because not only was that movie adorable, the new one was rumored to include a whole lot of Disney Princesses who had never been seen together onscreen before. That means Disney fans are basically freaking out.
In the original film, Ralph (John C. Reilly) and Vanellope (Sarah Silverman) fought off villains in the arcade where their games are based, but this time around, the duo are taking on more modern territory — the internet. They travel through a newly installed Wi-Fi router in Litwak's Arcade to get there. As you do.
In the clip, Ralph and Vanellope head off to a land full of little blue birds (Twitter, anyone?) and end up in a literal search bar where Vanellope, after fighting off the overly aggressive auto-fill feature, asks to go to "a website that's super intense and really nuts." That gets the pair sent to Oh My Disney, a site full of cartoon characters including, yup, the Disney Princesses. Appearances are made by Cinderella, Snow White, Aurora, Jasmine, Belle, Pocahontas, Elsa, Rapunzel, Ariel, Merida, Moana, and more. Pretty exciting stuff if you're familiar with the fact that none of these characters has ever appeared onscreen together — ever.
There's also an adorable exchange between Vanellope and Rapunzel. The princesses, all voiced by the living actresses who originally played them in their own movies, are doubtful that Vanellope is herself a princess (she is, in her game Sugar Rush). They grill her for a bit asking, "What kind of a princess are you?" they ask Vanellope. "Do you have magic hair? Magic hands? Do animals talk to you? Were you poisoned? Cursed? Kidnapped or enslaved?
But it's Rapunzel, voiced by Mandy Moore, who cuts to the chast. "Do people assume all your problems got solved because a big, strong man showed up?" she asks. "Yes, what is up with that," answers Vanellope.
She's in.
Get excited for the November 21, 2018 release. AKA, not soon enough.
This article was originally published on