Father Of 3 Girls Abused By Larry Nassar Lunges At Him In Court
by Valerie Williams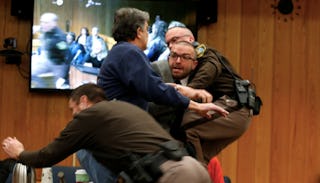 Image via YouTube/WXYZ Detroit
Margraves asked the judge for a minute alone with Nassar — and then lunged at him
The father of three of former USA Gymnastics doctor and convicted abuser Larry Nassar's victims tried lunging for him in court this morning. In a video not a single parent will be shocked by, the dad tries getting to Nassar before court bailiffs tackle him to the floor and escort him out in handcuffs.
Randall Margraves was in court this morning in Eaton County, Michigan where Nassar is answering to abuse charges there (his last sentencing was in Ingham County). Margraves' daughter Morgan's testimony was read at the previous sentencing before Judge Rosemarie Aquilina. Today's sentencing included statements from his other two daughters, Madison and Lauren. According to CNN, Margraves asked Judge Janice Cunningham if he could have a shot at Nassar himself.
"I would ask you, as part of the sentencing, to grant me five minutes in a locked room with this demon," he said. She told him that he knows she can't allow that. "Would you give me one minute?" he said. And that's when all hell briefly broke loose in the courtroom.
Referring to himself as a "distraught father," Margraves' words are clearly full of hurt, rage, and regret.
Security got to the dad and as he was tackled to the floor he yelled, "I want that son of a bitch! Give me one minute with that bastard."
As bailiffs restrained Margraves and helped him to his feet, he looked around for a moment, dazed. "What if this happened to you guys?" he said, looking at the officers escorting him out of the room. Assistant Attorney General Angela Povilaitis told the courtroom, "You cannot behave like that. No one can behave like this. I want to make sure it's crystal clear."
To which Margraves heartbreakingly replied, "You haven't lived through it, lady."
While no judge or attorney doing their job to uphold the rule of law can condone a physical attack in their courtroom, no parent will blink at this father's raw and grief-filled reaction to seeing the man who abused three of his daughters sitting right in front of him. It may not be right to physically attack anyone, but that doesn't mean his feelings of remorse and rage aren't valid.
Considering this fact, not a single loving parent would blame him for feeling so much anger.
More than 150 women spoke about their abuse at the hands of Nassar during his Ingham County sentencing with dozens more giving statements in Eaton County this week. He's already pled guilty to 10 criminal sexual conduct charges across the two counties and his sentence from Ingham County's proceedings already means he will die in prison. Still, it's not hard to understand where Margraves is coming from with his raw rage and heartbreak.
Before Nassar was brought back into the room, Povilaitis addressed what happened. "I know it is hard, but I need to ask all of you to try and not react in any physical way," she said. "It is not appropriate. It does not show the right message. It actually just causes more pain and more discomfort, and certainly we have enough of that already in this courtroom as a result of the defendant's actions."
"I understand Mr. Margraves' frustration," she says. "But you cannot do this. This is not helping your children, this is not helping your community, this is not helping us. … Use your words, use your experiences to get him and to change. Do not use physical violence."
Ultimately, Judge Cunningham says there's "no way" she will charge Margraves for his attempt at attacking Nassar. The father apologized a few hours after the ordeal.
This article was originally published on