This Corgi Supported His Human Through A Home Birth And A Photographer Caught It All
by Jerriann Sullivan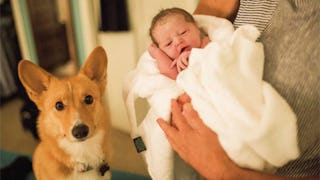 Image via Kristin Ann Photo
This doggie doula kept his human calm during her birth
A corgi in Texas is being called a doggie doula after helping his human through her home birth. Ranger might be the Goodest Boy Ever and the pictures from the home birth highlight the special bond between dogs and their people.
Ranger lives with his mama Brooke Ellington in Midland, Texas. She has two sons and hired Kristin Waner of Kristin Ann Photo to capture images of the home labor and delivery of her third child. Waner previously took photos for the birth of Ellington's son Boyd two years ago — when a different pouch was part of the pack. Loyal Ryder stayed by his mom's side throughout the entire birth but sadly, the pup passed away from cancer shortly after.
That's when sweet Ranger joined the family — and clearly there's something to the corgi breed when it comes to helping their owners through birth, because Ranger was up to the task just like Ryder before him. Just look at this Very Good Boy quietly resting his head on Ellington's pillow as she goes through labor. We can barely handle it.
Waner takes all kinds of photos but says she adores birth photography. "It is the only event I get to capture that is pure and true emotions. No posing or instructing my clients what to do, just documenting," she told Scary Mommy. "When Brooke asked me to be a part of their third birth I could not say no. I love their family and their home births are always so special." Neither expected that Ranger would become the star of the day, but his attentive and caring nature during Ellington's delivery was beyond precious.
"From the moment I walked in the door, Ranger was so excited. You could tell he knew something was happening," Waner wrote in a post for Love What Matters. "He was a calming presence when the power and intensity of her contractions started. Every once in a while he would jump on the bed to give her a reassuring kiss to let her know she could do this."
Waner said Ranger was very caring and loving toward Brooke the whole day. "When we moved to the birthing tub, Brooke progressed so fast. There were moments of laughter and moments of pain watching her overcome each contraction," she explained. "Ranger sat on the couch watching her, making sure everything was okay. While Brooke held her husband Steve and her amazing doula Jenny helped her ride through each contraction, Ranger would come and give her another reassuring kiss then back to the couch he went."
So attentive. So loving. Can we borrow him for our own births, please?
Ranger was just as excited as the rest of the family when baby girl Berkeley arrived. "Through all the commotion, little Ranger jumped up and ran right over to meet his new little sister. He loved her," Waner shares. "He watched every moment from her getting weighed to her first outfit changed. He was so proud to see her and the work Brooke did."
"He did not leave her side at all during the birth process. He was an amazing doula," she added. "It was a beautiful thing to watch — the bond between mom and baby and man's best friend." Waner is a self-described dog-obsessed person so it was easy for her to snap a ton of photos. And of course, the pictures of Ranger helping his human during labor have been very popular on social media sites already.
"We did not expect for it to get this big but we are so glad it has helped open a dialog for expecting moms," Waner said. "Birth is a beautiful thing and we love how everyone is enjoying sweet Berkeley and Ranger's story."
This article was originally published on