25 Rare Baby Names That Could Be The Next Big Thing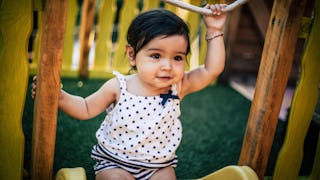 Nikola Stojadinovic/Getty
When we choose a baby name, most of us are going for that "sweet spot" — a name that isn't overly popular (just ask any Jennifer), but one that isn't entirely unheard of, either (your baby's name is … Brittezlynn?).
A rare baby name is generally classified as a name given to 50 or fewer babies each year. Using data available from the Social Security Administration, we can not only learn this information, but see how the popularity of the name has changed over time.
The following list of names are still considered rare, given to between 40-60 babies yearly, but have also experienced a surge in popularity within the last couple of years. So even though they're on the upswing, they're still far from overused.
For example, 1 out of 95 baby girls were named Emma last year, whereas only 1 out of nearly 15,000 were named Arie.
Though we've categorized the names on this list into "girl" and "boy" names (except for one, which is trending sharply upward for both), many of them can be — and are — unisex names. They've simply been placed into the category where they've shown the most growth.
Girls
Piggybacking on the wild success of Aria (thanks, "Game of Thrones") and with a sound similar to the popular male name Ari (#374 on the popularity charts for boys, #719 for girls), this name is trendy-feeling but still rare.
Amber and Kimberly have long been popular names, as have Em- names — look no further than Emma, which is the current #1 placeholder (five years and counting!). This one combines the favored elements of all three.
While its counterpart June is a perennial favorite, and still holding strong at #241, this name freshens things up a bit … without the Alaskan-sounding association of Juno.
Color names are getting a makeover; Rose and Jade are being replaced by muted hues like Silver and Navy. And, of course, Indigo.
Is it a new take on Eliza or a variation of Daleyza? Both have enjoyed ample popularity, so it seems logical that this pretty name would be poised for a takeoff as well.
The -inley names are big: Kinley (or McKinley), Brinley, Tinley. This one follows suit, plus has the bonus of the cute nickname Quin.
"Orange is the New Black" and its character Daya Diaz likely had a substantial influence on this name's popularity surge.
This cute, sassy name was put on the radar by Miss America 2017, Savvy Shields (short for Savannah, which has been in the top 44 girls' names for nearly 20 years running). As a standalone, it's kind of a modern virtue name — like the Puritans used Mercy.
Speaking of the influences of pop culture, this one got a boost from an unexpected source: a little video game called Fortnite (if you're already a parent, chances are you've heard of it. And are still hearing about it. Incessantly).
Gwen and Winnie have had their turns in the spotlight, so why not this more modern-sounding hybrid of the two?
This one goes nicely along the lines of other –aya names, like Maya and (see above) Daya, but its first initial makes it stand out as a little more unique — there aren't many I names, comparatively speaking.
Leo, Lionel, and Leon are all boys' names from the same Latin root word that means "lion." If we can name our boys after the king of beasts, we should be able to do the same for our girls; it's 2019, after all. Luckily, Leonie fits the bill.
Boys
Move over, Edward: Edric's the new kid in town. Actually, it's super-old — medieval, even — but that's become en vogue these days thanks to the popularity of certain book series and TV shows set in that time period.
This name is actually a French variation of Taylor, which itself is a favorite but has started to feel a little dated. Thayer's here to give it a fresh update.
Nature names are all the rage, and this one has a definite peaceful feeling about it.
A versatile pick (it can be pronounced like "bo-den" or "bow-den"), this name has the components to be popular: the Bo- prefix, like Bodhi and Bowie, and the favored -den ending like Aiden or Brayden.
This one's poised to be big; though it's actually a Biblical name, it's rarely been used. Add in its proximity to the uber-popular Noah (which is currently #2 on the popularity list for boys, after a reign of four years at the top) and this name has huge potential.
It could be the Star Wars feel (like Kylo) or the place name component (like Cairo) or just the fact that the letter K is so darn trendy right now. Whatever it is, Kyro is on the up-and-up.
This is an example of a surname that's been transferred to a given name — but its sound is completely compatible with today's most popular names. Just consider how similar it sounds to Asher, which is currently ranked #47. Want a close alternative? Try Thatcher.
Again, a nod to the popular –er names like Asher … and a nature name, as in the alder tree, which is said in Celtic mythology to embody a balance between male and female energies.
If there were ever a strong name, this is it. Literally. Plus, it fits in perfectly with the trend of gray-hued color names such as Sterling, Slate, and, well … Gray.
You could pronounce this ee-VEHR or EYE-ver. And if Ivy (and now Ivory) can become popular for girls, why not Iver for boys?
It was given to the daughter of Adam Levine and Behati Prinsloo last year, but with its earthy-sounding element, Gio is actually rising faster in the ranks for boys.
Alexander was popular so people started using Xander as an alternative … which morphed into Zander. So it only stands to reason that an alternative alternative, like Vander, could be next in line.
Unisex
This one made both lists: it's fast burner, popularity-wise, for boys and girls thanks to its strong unisex qualities … like a combo of Audrey and Aiden.
Only time will tell if these rare names will become tomorrow's classics — but for now, they definitely fit into that elusive "sweet spot" that parents are seeking. They're unique, but not the kind that raises eyebrows.
Looking for more names, from the super-popular to the obscure gems? Check out the Scary Mommy Baby Name Database, with thousands of names and tons of inspirational lists.
This article was originally published on