Online Knitting Community 'Ravelry' Bans Posts Supporting Trump
by Valerie Williams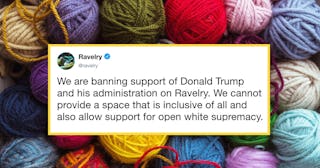 Raverky/Twitter and gojak/Getty
Knitting site Ravelry has had enough of Trump supporters and won't allow them to share their views on their forum anymore
If you're into knitting, you likely have Ravelry in your list of most-visited sites because they have it all. They offer countless patterns to use, the chance to network with fellow crafters, and info on all things knitting, crocheting, spinning, and weaving. Now, it's also a space that will guarantee no pro-Trump rhetoric, as the site's decided to ban all content supporting Donald Trump and his administration in a show against "support for white supremacy."
In a statement posted to their website, Ravelry doesn't mince words about why they've decided to ban all talk of supporting Trump and his administration:
"We are banning support of Donald Trump and his administration on Ravelry," they write.
Of course, the move seemed a bit out of left field for a crafting site, so some Twitter folks thought something might be amiss. Nope. Ravelry's just that awesome.
The site goes on to explain that the ban includes "support in the form of forum posts, projects, patterns, profiles, and all other content." So it sounds like patterns for knitting a MAGA scarf won't be found and TBH, good riddance.
They go on to assure community members that Ravelry "will never delete your Ravelry project data for any reason and if a project needs to be removed from the site, we will make sure that you have access to your data. If you are permanently banned from Ravelry, you will still be able to access any patterns that you purchased. Also, we will make sure that you receive a copy of your data."
In the end, it was about taking a stand for what's right.
"We cannot provide a space that is inclusive of all and also allow support for open white supremacy. Support of the Trump administration is undeniably support for white supremacy," they explain.
They clarify that this ban by no means suggests that Trump-supporting knitters are no longer welcome — they just need to keep their politics to themselves. Ravelry makes the distinction between banning all conservative politics and banning hateful rhetoric and intolerance, which, frankly, is the hallmark of the Trump administration. They also note that they're not banning people for past support of the president. They add that no members should "weaponize this policy by entrapping people who do support the Trump administration into voicing their support." They also won't allow antagonizing of conservative members who don't speak their positions out loud.
A few more specifics from Ravelry on what this actually means for members and their conduct on the site:
Projects: Unacceptable projects will be provided to the member or made invisible to others.
Patterns: Unacceptable patterns will be returned to drafts.
Forum posts: right now, only posts written after Sunday, June 23rd at 8 AM Eastern
Profiles: Please do not flag profiles yet if the only banned content is an avatar or avatars. There is not yet a flagging system for those.
And for anyone wondering just how serious Ravlery is about clearing their site of anything supporting Trump? It's already happening:
https://twitter.com/jetpack/status/1142779031911325696
The move seems to be getting a mostly positive reception from members and prospective members.
https://twitter.com/jetpack/status/1142778691103182849
For anyone not following the horrifying developments of the last few weeks, Trump is doubling down on his hateful anti-immigrant policies and threatening raids of immigrant families any day now. This is not an administration whose supporters deserve to be respected and listened to. Decisive action needs to be taken and it looks like crafters are leading the charge, weirdly enough.
It truly takes guts for companies and entities to take a stand like this and maybe a few years ago, it might have seemed bonkers for a crafting forum to say out loud that no one's allowed to support the president in their online space. But these are not normal times and it's crucial that citizens — and internet communities — take a stand.
Hopefully, Congress will one day be as bold as the knitters and make a similar move to silence this hateful and dangerous administration.
This article was originally published on