We Tried The Internet's Favorite Razor, And Now We're Crushing Hard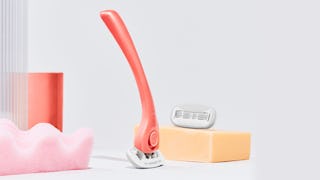 Your skin has never been this silky-smooth.
If you're like me and millions of other women who use a razor on their legs, underarms, bikini area, or let's be honest, anywhere you want to remove your hair, then you've likely felt personally attacked by the price of a quality razor. I mean, what exactly are we paying for that costs so much? Will a genie appear from beneath the blades and grant me three wishes? Because if so, I'd like lower razor prices.
Can a Girl Get a Decent Razor Already?
I've heard about subscription services for men's razors, and honestly, I was a little annoyed that there wasn't one for us. I mean, as women, we have way more to shave than they do, spatially speaking. So when a friend told me about Billie razor subscription service, a razor subscription service for women, I was intrigued but also slightly skeptical. She was raving about it, but after years of shaving, I had my doubts that the unicorn of razors actually existed. You know, one designed especially for women, that leaves your skin feeling silky-smooth, but doesn't cost an arm and a leg.
A Wise Woman Once Said, "Get Yourself a Billie"
Well, according to her, that's exactly what Billie razor is and exactly what it does. "Not only does it give you the smoothest shave ever, it's totally affordable," she told me. "It's designed just for women, and they bring it right to your door on your schedule!"
As far as friends go, mine have never steered me wrong. So based solely on her glowing review, I ordered the Billie starter kit, which comes with a Billie handle, magnetic holder, and two 5-blade cartridges. It only cost me $9 (plus free shipping, which I happen to be a huge fan of). Since this was considerably less than I'd been spending on razors, I didn't get my hopes up. But when it arrived and I tried it for the first time, I'm 90% sure I heard actual angels singing.
Hi, This Is Billie, My New Love
I'm going to be totally honest, I'm a tough customer because I always seem to get razor burn no matter how awesome the razor is. But not with Billie. I don't want to be overly dramatic, but THIS WAS THE BEST SHAVE OF MY LIFE. (Sorry for yelling, but it's that good.) Here's what I really loved about it: For starters, the price is unbeatable. The 5-blade razor, and the charcoal shave soap it's encased in, leaves your skin feeling so freaking soft.
If we're talking in terms of functionality, I love Billie's simple design, and the magnetic shower holder is seriously genius. You can have refills (four 5-blade cartridges) shipped right to your home monthly, bi-monthly, or every three months for $9. NINE DOLLARS! They also have body wash, lotion, and shave cream that are all equally awe-worthy.
So in case you hadn't noticed, I'm madly in love with Billie razor subscription service. The price, quality, and convenience totally won me over, and I will never use a store-bought razor again. Do yourself a favor and order your starter kit today.
Billie believes women shouldn't be an afterthought in the shaving category, that's why they are female first, offering a great shave that's completely affordable. Visit Billie today to get your starter kit.
This article was originally published on