Barbershop Offers Discounts To Kids -- If They Read Aloud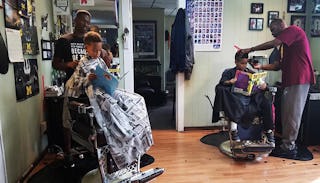 Two barbers in Michigan are building young readers one haircut at a time
Recognizing that it really does take a village, a Michigan barbershop is giving kids more than a trim when they stop in for a haircut. That's because The Fuller Cut in Ypsilanti, Michigan, just outside of Ann Arbor, gives kids two dollars (or their parents a two dollar discount) if they read aloud while getting their tresses trimmed.
The Read to Your Barber program was the brainchild of barber Ryan Griffin, who was inspired to start the program in 2015 after he read about barbers in Harlem and Iowa who had similar programs. He shared his idea with Alex Fuller, the owner of The Fuller Cut, who also loved the idea. Griffin brought in a few books from home, and the program was off and running. Since then, the barbershop's library of books has grown as the barbers bring in more books and the shop receives donations from others in the community. Children can also bring in a book from home or school – just as long as they read aloud to their barber, they will walk out with two bucks in their pockets.
Fuller told Scary Mommy that the driving force behind the reading incentive can be summed up in a quote by Frederick Douglass, an African-American social reformer and abolitionist: "It is easier to build strong children than to repair broken men."
In the spirit of building children up, the barbers not only listen to the child read aloud, but they also help and encourage them when they need it. "The barbers even quiz them when they're done to make sure the child comprehends what they read," said Fuller.
The barbers aren't just boosting literacy levels either; they're also boosting kids' self-esteem in the process. "Success happens every time there is a book in a child's hand," Fuller said. "And there have been moments where we can see in their face that they feel accomplished when they're done reading. Nothing beats that." Not to mention the two dollars they receive after reading. Fuller said that always helps too.
Not surprisingly, the Read To Your Barber program has been big hit with parents, kids and teachers alike. "The response from parents and teachers has been incredible," Fuller said. "They love it. As for the kids, they are all on different levels of learning. For some kids, reading comes easy. For others, they may be afraid to read out loud, or they may struggle with reading in general. We encourage all of them to try regardless."
The reading initiative has been in effect since August 2015, but the barbershop is enjoying the recent buzz generated about the program. Anyone interested in donating books can send them to: The Fuller Cut at 307 Ecorse Road, Ypsilanti, MI 48198. They aren't picky about books, and will take any books that have positive African-American images for the kids to see themselves in.
Fuller and Griffin, both of whom are fathers, said that reading has been a pillar in both of their families and, together, they are working to make reading a part of other kids' lives as well.
"Every kid is trying to win a battle in their life, we just want to help empower them for the future," Fuller said. "We want to see a reading revolution."[free_ebook]
This article was originally published on