Real Babies, Real Singers, Real Bedtime Battles. Lullaby League Coming April 18th!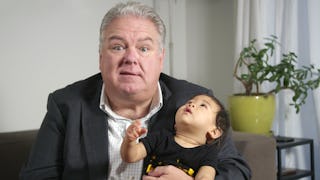 Parks and Recreation alum Jim O' Heir kicks off Scary Mommy's new original series, Lullaby League, and exhausted moms everywhere will thank him. In each episode, an a cappella group competes to see how fast they can sing a crying baby to sleep. From doo-wop to gospel to rock, every band is bringing their best. It's a bedtime battle with the winner taking home a recording contract at a world class studio where Alicia Keys recorded some of her hits.
You can watch the six-episode series at Scary Mommy, on YouTube, and on-air at Pop TV starting April 18.
For the first time ever, Scary Mommy is offering an original soundtrack on iTunes. Now moms across America can bring the power of the lullaby to their babies at home.
All proceeds from iTunes benefit March for Our Lives.
This article was originally published on