Real Estate Ad Slams Working Moms For No Good Reason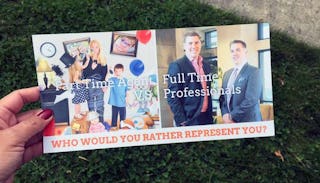 A real estate ad that's circulating around Seattle right now asks, "Who would you rather represent you?" My immediate answer is, "the woman on the left used to juggling 40 things at once in an environment of total kid-chaos. Definitely not the smug assholes on the right." According to Costello and Costello Real Estate Group, my answer is WRONG.
The two geniuses behind the ad (aka, the smug assholes on the right) are Chase and Jeffrey Costello. In an effort to make the point that they work as a team and do it full time, they decided to use a working mother as an example of someone you definitely don't want assisting you with your real estate needs. Because, according to them, working moms can only ever truly be part-time because they have all those kids around them, tying them up with string, balancing colanders on their heads, and drawing all over their face. You don't want a real estate agent with marker on her face, do you? This particular mom also has a duck standing in the middle of her living room. Because, of course.
On the back side of the ad, the duo lists what they can provide against what a working mom can provide. There is an actual list in their column, but on the working mom's side it just says, "Available at THEIR convenience." Presumably there were no women around to perform quality control while this ad was being drummed up. They were probably too busy tending to the ducks in their living rooms.
The backlash to the ad caused the pair to issue an apology on their Facebook page:
"There are thousands of professional agents working in our area who are also dedicated mothers, including several members of our team. Our original hope with this message was to show the value of having a full-time agent in a competitive market, but we completely failed. We have the upmost respect for moms and working mothers, and we know that the job of a mother is far more demanding than what we do as real estate professionals. Again, we are truly sorry."
The word is "utmost," the apology is lame, and the ad is ridiculously sexist. I had to copy the text of the apology from KIRO TV's site because the Costello and Costello Facebook page is now down. Looks like the super duo is cracking a little. Get it together, boys. Maybe you should consult with a working mom to get some tips on how to deal with pressure.
This article was originally published on