Andy Cohen Reveals Plans For 'Real Housewives Of Dubai'
by Christina Marfice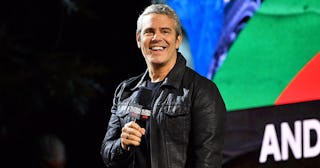 Erik Pendzich/Shutterstock
Andy Cohen just announced the next Real Housewives franchise, and it's a city we never saw coming
The Real Housewives franchise has really earned its spot as a top Bravo series over the years. Since beginning with the Real Housewives of Orange County all the way back in 2006, the franchise has for years delivered incredible fashion, affluence and opulence, and, of course, so much drama. And now, the Real Housewives universe is expanding once again — host and executive producer Andy Cohen just made a big announcement about what's next for the show.
Cohen appeared on the Today show Monday morning to talk to co-anchors Savannah Guthrie and Hoda Kotb about his experience on the show, as well as the much-teased next franchise that will be coming to Bravo.
"Get your passports, our 11th city! We are going to the billionaire's playground, the city of gold, the desert oasis — 'The Real Housewives of Dubai,'" Cohen said on the show.
At the same time that he made his announcement, Bravo's Twitter account dropped a teaser for the new season — and it's already clear that we'll be tuning in for this one.
The teaser video shows a woman, in a stunning red gown with a long train, walking barefoot along the top of a sand dune. She's surrounded by nothing but desert as a voiceover kicks in, saying, "It's the land of opportunity. It's the new American dream."
The Real Housewives started out as a documentary series offering a glimpse into the lives of women living in an affluent gated community in Southern California. But viewers were most drawn to the friendships — and drama — between all the women featured on the show. Within a few years, it became one of Bravo's most-watched and most-beloved series, and it has since expanded to include 10 cities coast-to-coast: New York, Atlanta, New Jersey, D.C., Beverly Hills, Miami, Potomac, Dallas, and Salt Lake City, in addition to the original Orange County edition. This will be the first official, Bravo original series in the franchise to take place in an international location.
And of all places, Dubai. The city in the United Arab Emirates has earned a reputation for being a playground for the world's richest people, where you can do anything — as long as you can afford it.
As Cohen put it, "This is going to blow the lid off the entire franchise." We can't wait to watch.