'Real Housewives' Fans Are Talking About The Woman In Red Who Brought The Drama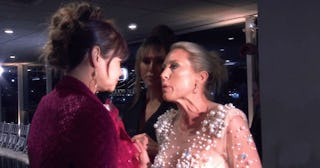 Bravo
A mysterious woman in red brought more drama this week on RHOC in just a few minutes than the cast did the whole season
When Real Housewives of Orange County starts off the episode with politics, you know it'll be a wild one. So, let's start there.
Tamra Judge's son, Ryan, returned to RHOC. He and Tamra sat in the lobby of a tattoo removal facility, waiting for Dr. Will Kirby of all people to laser his tattoo away. For those unaware, here's a fun fact for you: Dr. Will is the winner of Big Brother Season 2 and continues to make appearances on the show, specifically to help the jury determine who they should ultimately choose as the winner.
Anyway, before Dr. Will went to work on Ryan's tattoo, Ryan and Tamra kept the conversation anything but light, talking about Ryan's affinity for President Donald Trump. And Tamra didn't hold back, spouting one-liners, including, "When did you get so patriotic?" and "You're, like, in a Trump cult." Ultimately, though, Tamra said she can't judge Ryan for his love for Trump, (but we can).
Later on, viewers hated on the bedazzled, feathered outfit Braunwyn Windham-Burke wore to her daughter's fashion show at OC Fashion Week. Then, we watched Shannon Beador cheer her daughter on as she practiced her runway walk. And by cheer her on, we mean attempt to teach her how to properly walk a runway. It was hilarious and awkward and, at one point, she called herself a "momager."
Ah, and how could we forget? We also watched the origin story of Gina Kirschenheiter's bleach-blonde 'do, one we've seen all season long in her talking heads. "I feel like you're changing your hair and changing your life," Braunwyn said supportively, while Kelly Dodd, instead, decided to call Gina ugly.
All in all, the episode was pretty uneventful (for RHOC standards, at least) until…
Kathy happened.
Oh my god, the fashion show showdown was the most incredible moment in — possibly — all of RHOC history. Behold:
Short story: Braunwyn's mom, Dr. Deb, accused a security guard of forcibly grabbing her arm, but he denied it was as forceful as she claimed. Then, Dr. Deb accused Kathy Marino, the president and producer of OC Fashion Week, of verbally attacking her, which Kathy denied doing as well. The second Braunwyn heard what happened, she bolted over to Kathy, demanding she apologize to Dr. Deb. Kathy was immediately on the defense, telling Braunwyn that she should have had a conversation with her first to get a better understanding of what happened before demanding an apology.
And then the drama happened.
Kelly walked up to join the two women, they argued back and forth, Kathy suddenly has a microphone and puts it in Braunwyn and Kelly's face. Kelly then accuses Kathy of hitting her in the face with the mic, and Kathy appears to get kicked out of the event. The real plot-twist arrives at this moment: Kathy returns!
Microphone in hand, she has returned to do her job: host the show and introduce Braunwyn's daughter's clothing line.
She does that, but not without using that opportunity to talk smack about Braunwyn and Kelly during her spiel. It was pure, unexpected TV magic. A reality TV gem for the ages.
After watching this moment, we have just one question — one plea — for Andy Cohen: Can you please hire her on for the next season of RHOC?
Kathy, we see you. We need you. We can't wait to see more of you.