Schedule The Vacation, But Cancel The Dreams Of The Perfect Trip
by Stacy Seltzer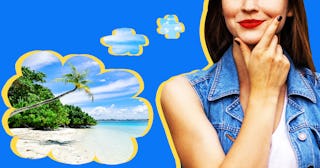 Scary Mommy, Asad Photo Maldives/Pexel and Khosrork/Getty
Every family vacation I do the same thing: spend months, weeks, and then days fantasizing over the life-changing family trip we will take together.
Weeks before our feet hit the sand, I imagine the adorable (but natural) picture of us all laughing on the beach in the sunshine as the waves roll in the background. I daydream about the seafood meals and frozen drinks I will consume, giving the entire trip a hazy happiness only vacation eating and drinking can give. I ultimately land on the same "last night fantasy" of me and my husband lounging in soft comfy chairs on a deck overlooking the ocean, sipping wine as our peaceful babies sleep in the hotel room like perfect little sun kissed angels.
Yet each year since I have had children, every new trip forces me to face the reality of what a vacation is for us now. Simply put, they're nothing like my fantasies.
A few weeks ago, my family and I went to Charleston, South Carolina. It was a repeat vacation that my husband and I took for our "baby-moon" five years prior. We had spent three blissful nights eating our way through the cobblestone streets and warm sandy beaches of Charleston, drinking up the city with the zest of two young people on the verge of a new life adventure.
When my daughter turned five this May and a business opportunity came up, we decided it was meant to be. We pulled the trigger on (way too expensive) plane tickets and started planning our long-overdue return to Charleston. We were excited and optimistic, and oh so stupid.
I should have known my dreams were doomed from the start when it took us 45 minutes to drive 2 miles to the beachfront hotel. Yes, you heard me correctly. FORTY FIVE minutes, to drive TWO miles.
Then at the hotel, I realized my pregnancy-tainted memories had failed me. Where was the glorious, luxury hotel I remembered? Did the rooms not have carpet back then? Why was the balcony so small with no seating? It felt like someone was playing a practical joke on me, and unfortunately I was not laughing.
Yet, it was only a room right? So even as our confidence wavered, we remained optimistic because of the many adventures that awaited us in this beautiful Southern city. So we soldiered on, pulling on our bathing suits and heading out to the beach.
But then it happened – slowly at first as their little eyes adjusted to the sun, and then so quickly I couldn't stop it. It was the beginning of the end to every vacation wish I spent months dreaming about. My kids laid eyes on the pool.
After that, everything we did for the entire trip, they wanted the pool. The one and only drive we took into the city of Charleston was short lived, because my sweaty kids could think of nothing else but the cool, refreshing pool water. Walks to the beach started well with sea shells and wave jumping, but were quickly ruined when the sand got everywhere and one of them mentioned the P word.
After about 24 hours of feeling like the trip was falling apart, the relentless blaming self-talk began, because "logically" this was all my fault. I should have researched the hotel more, made more plans for activities, or simply forced the kids — kicking and screaming — to do what my imaginative brain had planned out.
And as so many mothers know, this internal conversation can ruin even the best of vacations. So when your kids ask to have pizza for the third night in a row, you lash out at them, because who flies hundreds of miles to have pizza and swim in a pool?!
Then you remember … they didn't book this trip. You did. They are simply children adjusting to this new experience, and doing what is comfortable for them – and for mine, that means pizzas and pools all day long.
As parents we constantly take our children places where we want to go and expect them to act differently than they would at home. My kids complain relentlessly in our yard when they are hot, they want pizza for every meal of the day, and any house with a pool presents a logistical nightmare when we try to get them to leave.
Now that we are back and I have some perspective, I can see how some aspects of the vacation were truly amazing. My mom asked my three-year-old son about the trip just yesterday, and his answer warmed my heart. He talked about the THREE planes he got to ride in, the big seashells he found, the horse and buggy carriage we rode … and, of course, he talked about the pool.
So my suggestion for all you mamas going into this vacation season: Try to not dream (too much) about what the vacation should be. Plan as little as possible and try to relax. Your visions of the picture-perfect trip are just that — images we create in our minds, that don't take into consideration the details of everyday life. Similar to our kids' favorite shows like "Sofia the First" or "PJ Masks," but in your vacation reality, no one is coming in to save the day with magic spells and ninja moves.
I promise you, there is so much beauty in the imperfect and unplanned, if you're willing to just let go and enjoy.
This article was originally published on