A Non-Exhaustive List Of The Reasons We F*cking Love Dolly Parton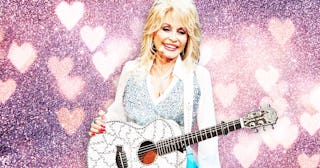 Julia Meslener for Scary Mommy, Magda Ehlers/Pexels, freestocks/Unsplash and Valerie Macon/Getty
Some people are just undisputed national treasures. Betty White. Tom Hanks. Keanu Reeves. The late Mister Fred Rogers. The list goes on. Some people are beloved and dear, and that's just how it is. But if you ask me, the treasure-est of all the treasures is one Dolly Rebecca Parton.
Dolly Parton has written or co-written thousands of songs. She has twenty-five number one hits to her credit. Dolly recorded her song "I Will Always Love You" twice and it went number one both times. Whitney Houston's version also went to number one in 1992! She has received more awards and acclaim than one can even imagine for one lifetime. She's been consistently successful as a musician for six decades. Her musical superstar status is without question.
But that's literally just the beginning of why we love her.
Whether she is famously describing her self-confidence by quipping, "I'm not offended by all the dumb blonde jokes because I know that I'm not dumb. I also know I'm not blonde," or finding a way to use her fortune to support worthy causes and people in need, Dolly Parton is a gem, and everyone loves her.
Barack Obama even regrets not giving her the Presidential Medal of Freedom.
There isn't enough time in a day to list ALL of the reasons why she is literally joy in human form, but here's a handful of things we just freaking love about Dolly Parton.
She donated an unfathomable amount of money to COVID vaccine research.
As we approach the one-year anniversary of entering lockdown, this one is especially noteworthy. Dolly donated one million dollars to fund research that led to the Moderna COVID vaccine. Dr. Naji Abumrad told the Washington Post that, "Without a doubt in my mind, her funding made the research toward the vaccine go 10 times faster than it would be without it." Dolly also encouraged other people to donate, using her social media feed for good.
And she received her vaccine in true, upbeat Dolly fashion.
Encouraging viewers to follow suit, Dolly said, "Don't be such a chicken squat. Get out there and get your shot!" She even improvised her famous "Jolene" lyrics for the occasion: "Vaccine, vaccine, vaccine, vacc-iiiine!"
Dolly Parton's Imagination Library provides free books to children all over the world.
In 1995, Dolly Parton founded the Imagination Library, providing free books to children in Sevier County, TN where she grew up. In the years since it was first founded, the Imagination Library has expanded, first covering every child in the state of Tennessee, and then moving on to other parts of the United States and even other countries around the world. As of today, Dolly Parton's foundation has donated over 154 million books to children all over the planet!
Since we are Tennesseans, my kids have been enrolled in the program since birth. A representative came to my hospital room to make sure my babies were signed up for their free books. Everyone qualifies, regardless of income.
Dolly Parton recently turned down the chance to have a statue erected in her honor in Tennessee.
Dolly's most recent swoon-worthy move came last month when she basically said to the Tennessee State Legislature, "Ummm, what the heck you guys? A statue of me right now? Can we maybe just…not?"
Okay, what she actually said was this:
But honestly, what a politely worded, gentle takedown of some ill-timed nonsense. I would personally love to see one hundred statues of Dolly in place of each and every Confederate monument in Tennessee, but Dolly is wiser than I am.
She's been married forever, and she seems to truly adore her husband.
Dolly Parton married Carl Dean in 1966 and that was that. Decades later, and they're still going strong. He mostly avoids the spotlight, but she lets us in on their marriage once in a while with her particular brand of frank, hilarious storytelling. Who can forget when she famously told Jimmy Fallon that she thinks her husband fantasizes about a threesome with Jennifer Aniston? When she giggled, "He can't even get it out to pee, much less get it up for three!" Jimmy Fallon got up from his chair and pretended to fall down dead. Dolly does that to people. She's a delight.
She supported local people with cash payments when wildfires ripped through Tennessee in 2016.
When wildfires ripped through East Tennessee in 2016, destroying thousands of buildings and killing at least 14 people, Dolly stepped up like only Dolly Parton can. According to Dolly's own website, "The Dollywood Foundation established the My People Fund just 48 hours after the 2016 wildfires. In the weeks and months following, the Fund provided $1000 each month for six months to Sevier County families whose homes were uninhabitable or were completely destroyed in the Smoky Mountain wildfires. Any family who lost their primary residence (renters and homeowners) due to the wildfires in Sevier County were eligible. Due to the tremendous outpouring of donations and support, the final distribution checks were $5000 (per family)."
Dolly Parton's businesses in Pigeon Forge are major contributors to the local economy, and so is the woman herself. Dolly understands how to QUICKLY help people who have suffered catastrophic economic devastation. (Hello, Congress? Are you listening??)
She's not all sparkles and charity work; she's a savvy businesswoman.
Most people have heard the story about how Dolly Parton famously wrote "Jolene" and "I Will Always Love You" in the same day (LEGEND), but did you know that Elvis wanted to record the latter? Dolly told him no because his people would have required her to give up half of the publishing. Her personal sadness at missing the opportunity to work with The King didn't convince her to make a business deal she wasn't comfortable with.
That decision proved to be a smart one when Whitney Houston recorded the song for The Bodyguard in 1992, launching it into another round of superstardom.
To this day, Dolly owns most of her catalog, but her empire is so much more than music! From her charity ventures, to her theme park to movies, books and even bakeware, Dolly is a savvy business woman who has her hand in more pots than most people even realize.
By many accounts, she's literally the nicest person alive.
I've spent most of my life in Nashville, and my parents worked in the music industry, so I've heard a lot of Dolly stories. Every single one of them is positive. Everyone who meets her is enchanted.
My dad loves to tell the story of the time he almost knocked Dolly Parton right on her sparkly butt. He was working for a TV network, and he was backstage at the Opry House, rushing around and generally distracted by the immense amount of work he needed to do that day. It was dark backstage, and in his hurry, he narrowly missed walking straight into a tiny little woman. He looked up to realize it was Dolly herself. Stunned, he said, "Pardon me!" She giggled and joked, "No, Parton ME!" before walking on leaving him stunned and starstruck. Almost 25 years and one zillion celebrity meetings later, he still considers her one of the nicest people he ever met.
Dolly Parton is a badass when it comes to the business of self-love.
As a person who had to work really hard for a long time to make peace with my body and learn to love the skin I inhabit, Dolly's commitment to completely owning her over-the-top image tops my personal list of reasons why she's an inspiration.
She famously joked, "It takes a lot of money to look this cheap," and we love her for it. There is nothing about her signature look that she doesn't fully embrace. From owning her commitment to Botox and fillers with lines like, ""I'm comfortable in my own skin, no matter how far it's stretched," to rejecting the idea of restrictive diets by admitting, "I tried every diet in the book. I tried some that weren't in the book. I tried eating the book. It tasted better than most of the diets," Dolly Parton reminds us all that there is no one way to be beautiful and love what you see in the mirror.
Her over the top wigs and head-to-toe rhinestones aren't for everyone, but her self-love is a lesson we could all learn.
Dolly Parton has done more charitable work than I could possibly cover here. If you wanted to, you could read stories all day long of ways she has supported people and funded life-saving projects with her generosity. She's an artist, a world-changer, a truly decent human being and a pure delight to behold. We are all lucky to have her.
This article was originally published on