Woman's Viral Tweet Stresses Kindness During Coronavirus Pandemic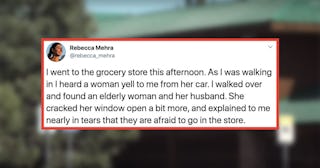 Rebecca Mehra/Twitter
Professional runner Rebecca Mehra's tweet about helping an elderly couple emphasizes the importance of helping others
Today, President Donald Trump declared a national emergency to combat coronavirus. But leading up to the announcement, citizens have been in a frenzy, clearing grocery store shelves and stocking up on food and, especially, toilet paper. And as long lines continue to form outside of grocery stores such as Costco comprised of people waiting their turn to simply enter the store, others are afraid to step foot into stores — period. Such was the case for an elderly couple two days ago.
Bend, Oregon-based professional runner Rebecca Mehra took to Twitter to share the now-viral story about the aforementioned couple she ran into outside of a grocery store. "I walked over and found an elderly woman and her husband. She cracked her window open a bit more and explained to me, nearly in tears, that they are afraid to go in the store," Mehra started.
The man and woman, Mehra wrote, are both in their 80s, and they didn't have family around to help them. According to the Centers for Disease Control and Prevention (CDC), older adults and people who have serious chronic medical conditions, like heart disease, diabetes, and lung disease, are at higher risk of getting sick from COVID-19, also known as coronavirus. And according to infectious disease expert and senior scholar at the Johns Hopkins Center for Health Security Amesh A. Adalja, M.D., "above age 50 is when you start to see more severe complications," he told Prevention.com, adding that older patients have a harder time recovering.
"Through the crack in the window, she handed me a $100 bill and a grocery list, and asked if I would be willing to buy her groceries," Mehra continued. "I bought the groceries and placed them in her trunk, and gave her back the change. She told me she had been sitting in the car for nearly 45 min before I had arrived, waiting to ask the right person for help."
Mehra ended the string of tweets with one very important message: "I know it's a time of hysteria and nerves, but offer to help anyone you can. Not everyone has people to turn to."
Since the tweet was posted (and at the time of publishing this story), it has received more than 546,000 likes, 100,500 retweets, and more than 5,500 comments.
https://twitter.com/jetpack/status/1237894350631133188
Mehra was also interviewed on CNN today about the viral tweet. "I've been so impressed by the response because I wasn't expecting it, but also I think this is such a trying time for so many people, particularly elderly folks. So, I was glad I could help, and I was glad I could inspire tons of other people to do the same."
When ask what she wanted others to take away from her story, Mehra responded, "Look out for your neighbors. Look out for the other folks in your community. It's a difficult time. People are really scared. There's a lot of nerves; you can see it in schools, at grocery stores, and other places around the community I live in."
To help care for an older adult, the CDC recommends the following:
Know what medications your loved one is taking and see if you can help them have extra on hand.
Monitor food and other medical supplies (oxygen, incontinence, dialysis, wound care) needed and create a back-up plan.
Stock up on non-perishable food items to have on hand in your home to minimize trips to stores.
If you care for a loved one living in a care facility, monitor the situation, ask about the health of the other residents frequently and know the protocol if there is an outbreak.
"Kindness helps," Mehra told CNN. "If someone is having a hard time or someone can't get basic essentials, reach out to them. You never know the kind of impact you're able to have."