Red Lobster Has 'Ugly' Sweaters With A Biscuit Pocket Because, YOLO
by Julie Scagell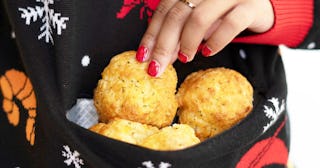 RED LOBSTER
Red Lobster's sweater has a secret section for your biscuits
Santa's come early this year, folks, and the proof lies in an ugly Christmas sweater of epic proportions. No, it doesn't light-up or sport an ironic saying like, "The tree isn't the only thing getting lit this year!" (which I'm intimately familiar with because my husband owns one), this particular sweater offers more than you could ever ask for — an insulated compartment to store Red Lobster Cheddar Bay Biscuits.
The seafood restaurant adored by grandparents everywhere dropped a line of holiday-wear and this sweater is the stuff Christmas dreams are made of, y'all. Decorated with images of snowflakes, shrimp, biscuits, and lobsters, Red Lobster's black and red Cheddar Bay Biscuit sweater comes with an unexpected surprise — an insulated pocket which serves to keep your biscuits warm as you get a little toasty at your next holiday party.
"Much like our famous Cheddar Bay Biscuits, the limited-edition Cheddar Bay Biscuit 'Ugly' Holiday Sweater is ridiculously soft, warm and guaranteed to help holiday enthusiasts sleigh all season long," the company writes on RedLobsterShop.com. "Festively designed to be the hit of any holiday party, this season's must-have look is complete with an insulated pocket to ensure everyone's favorite indulgence, Cheddar Bay Biscuits, is kept warmed to perfection and never beyond reach when the craving hits."
My late grandma is one of what I imagine to be a network of little old ladies that would eat several Cheddar Bay Biscuits pre-dinner, then ask for a refill and proceed to wrap them in a paper napkin and shove them into her purse as soon as the waitstaff walked away. After she died, my cousin told me they found an old pile still wrapped in a napkin in the bottom of her closet when they cleaned out her apartment. I'm pretty sure she did that on purpose.
It seems everyone is getting in on the ugly Christmas sweater game. Disney released a line this year that all fans of the franchise would be proud to wear and who can forget the ones that look like chest hair? Fast-food chain Tao Bell's entrance into the ugly sweater arena was extremely welcome, offering both ugly sweaters and entire onesies sporting their signature hot sauce. Unfortunately, they all pale in comparison to Red Lobster because, insulated biscuit chamber.
The sweater sells for $39.99 and is available now. According to the brand, the Red Lobster Shop will also give consumers a place to buy "must-have stocking stuffers like insulated Cheddar Bay Biscuit Fanny Packs, t-shirts and more, all available in limited quantities while supplies last!" I have a feeling this one will be flying off the shelves so if you're a lover of their biscuits or want to be the hit of all your holiday parties this year, I'd recommend snagging yours soon.