The Marketing For This New Snow White Film Is Why We Can't Have Nice Things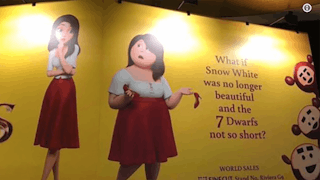 Image via Twitter/ Tess Holliday
Tess Holliday points out body-shaming in upcoming children's film
A new animated retelling of the classic Snow White tale, Red Shoes and The 7Dwarfs, is being slammed for its horrible marketing. Critics say the campaign is body-shaming, and it's hard to disagree.
Tess Holliday took to Twitter to illustrate what is so disturbing about the promotional materials for the film. She tagged Chloe Moretz, one of the stars of the movie, in her message.
"How did this get approved by an entire marketing team," Holliday asks. "Why is it okay to tell young kids being fat = ugly?" The poster shows a full-figured, makeup-less Snow White next to her taller, thinner, "pretty" counterpart. It asks, "What if Snow White was no longer beautiful and the 7 dwarfs not so short?"
The IMDB page summarizes the movie like this: "Princes who have turned into Dwarfs seek the red shoes of a lady in order to break the curse, although it won't be easy. A parody with a twist." From the trailer it's clear that the shoes transform Snow White from a short curvy woman into a tall, thin one. And frankly, the trailer is as absurd as the promotional poster.
Two creepy elves slip into Snow White's house, looking confused as to where they are. The tall thin version of Snow White walks in, and the elves hide under a couch. Much to their surprise, she starts removing her clothes — and the elves are ogling her. They excitedly watch her remove every item, until she finally gets to the shoes.
When the shoes come off, her chubby leg is revealed and the elves recoil in horror. Snow White transforms from thin "eye candy" into a burping, slouching woman who makes men recoil in horror — all because with the shoes off some weight comes on.
Twitter users chimed in on Holliday's tweet:
Another promotional poster says, "She wants to stay true to herself but Fairytale Island is all about looks so it makes it hard not to want to be like the others."
The Hollywood Reporter explains the premise of the film: "Red Shoes And The Seven Dwarfs is a parody that will give the classic fairy tale a twist, setting the story as if the dwarfs were actually seven cursed princes. Snow White, the beauty in the red shoes, appears in front of the dwarfs, who must be kissed by the most beautiful woman in the world to break the curse. As they get into an absurd competition over her kiss, the once arrogant, looks-obsessed princes gradually realize the true meaning of beauty."
It looks like the film is trying to send a positive message — but the message is being lost on this stereotypical idea that fuller-figured women are clumsy, more crass, and less desirable. Maybe if you are trying to make a film with a positive image for girls, you should avoid lazy stereotypes that only serve to send the exact opposite message.
Just a thought.
This article was originally published on