Red Water: A Hot New Book Release By One Of Scary Mommy's Own
by Samantha Angoletta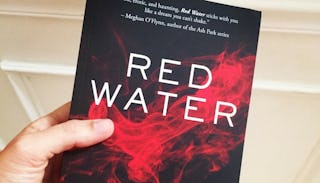 Here at Scary Mommy, our team feels more like family than co-workers. And, I'm not just saying that. We love our people.
So when one of us has a new project, and it turns into a smashing success, we want to shout that from the rooftops.
Kristen Mae's second novel, Red Water, is just that. It was just released today and already hit bestseller in its category on Amazon, with initial reviews of 5 stars across the board.
She doesn't want to toot her own horn here, so I'm happy to do it for her. BEEP BEEP.
Red Water is a dark romance with elements of erotica and horror, a story Kristen says is meant to explore the more insidious side of the "tame the beast" trope that has been the trend for years now. While there's nothing wrong with escaping through fantasy, Kristen says, "usually the guy who makes the hairs on the back of your neck stand on end doesn't turn out to be happily-ever-after material. And oftentimes, the ones we overlook turn out to be the truest loves."
But lest you be turned off by romance, Red Water is way more than your average romance novel–it delves unflinchingly into serious realities surrounding abusive relationships, mental illness, grief, and trauma.
Kristen admits Red Water is quite a dark story, and there are not many "fade to black" moments. She says some truths are too ugly to hide, and need to be dragged out into the light.
Reviewers (and myself!) seem to think she nailed it, many saying the book became so difficult to read that at times they needed to put it down for a moment. If you need to take a break from a book, so that you can regroup, then you know you've got a winner.
Red Water is available now for only $4.99 where online books are sold. You won't be disappointed.
Congratulations, Kristen!
This article was originally published on