Red Wine Brownies Are Here To Make Everything Better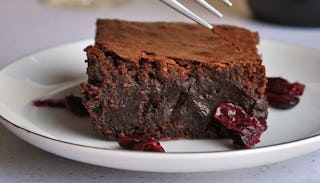 Image via A Cookie Named Desire
If you haven't decided whether you want to stress eat through Inauguration Day, or drink yourself into oblivion — now you can do both!
Inauguration Day is here and we're all try to figure out how to get through it. Stress eating?Drinking more wine than we knew was humanly possible?
Well if you're having a hard time deciding which vice to attach yourself to for the day, chocolate or booze, we've got a solution. Boozy brownies. You're welcome.
Amanda Powell from A Cookie Named Desire has one of those blogs that makes you want to pack your bags, show up on her doorstep, and beg to be taken into the family and fed for all of eternity. Not sure if she has room for all of us to move in, but she's got a recipe for us, and it's right on time.
Red wine brownies. Yes, you read that right.
Look. At. This. LOOK AT IT. Those are drunken cranberries, by the way. My brownies never look like this. Clearly I've just been missing the most important ingredient.
These are the ingredients you'll need.
¾ cup red wine
½ cup dried cranberries
¾ cup all-purpose flour
½ teaspoon sea salt
1 stick butter (1/2 cup), plus extra for greasing
6 oz dark or semi-sweet chocolate (I used half and half)
3 large eggs
1½ cups sugar
⅓ cup unsweetened cocoa powder
½ cup chopped walnuts (optional)
"I've had novice bakers who've been able to make the brownies using the instructions with success, so even though it sounds 'fancy' anyone can make these brownies even if they can't bake to save their life," Powell assured Scary Mommy when we asked if we could take a shortcut with a boxed brownie mix. "I do think trying it with boxed brownies is worth a try – I just can't speak to its success!" Probably wouldn't be as good anyway, but chocolate is chocolate and wine is wine, and tomorrow is election day so who cares. The easier the better.
So pour yourself a glass of wine and follow the directions for making these amazing brownies over on A Cookie Named Desire.
This article was originally published on