This Red Wine Hair Trend Is Gorgeous And Literally Made For Moms
by Thea Glassman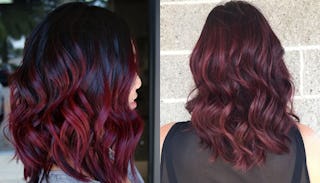 Image via makeupbyfrances/Instagram/Redken/Instagram
Mulled wine color hair is a thing now and you're going to want it immediately
Are you feeling all of those post-holiday blues? Need a pick-me-up as you board the struggle train back to reality? We'd like to turn your attention immediately to a trendy new hair color that will bring you some much needed cheer. And, yes, you can and will pull it off.
Mulled wine color is the new winter hair trend, Popsugar reported, and it's a rich, luscious dream come true. The color looks pretty similar to what actual mulled wine looks like, in all of its dark cherry red glory. Not only is the color super flattering, but it's an excellent excuse to drink all of the warm, comforting wine, at all times. Cinnamon sticks required.
"[The color] looks super dimensional, youthful, and is a way more modern way to pull off a deep, red color," Rachel Bodt, a New York City–based colorist, told Allure. "What's more, you can definitely customize it to suit your skin tone — a brighter berry tone flatters fairer people, while a dark merlot looks great on tan and deep complexions."
Not officially sold yet? Here's a few more magically red hairdo's to push you over the edge. Bottom line: everything should be the color of mulled wine at all times.
That's not the only trendy, delicious drink option you can color your hair. There's also the "Vanilla Milkshake," which is all about darker roots and lighter ends.
https://www.instagram.com/p/BakeGVTAC4u/?utm_source=ig_embed
And the "Creme Soda," which is "warm, rich and can be adapted for blondes or brunettes," celebrity stylist Sunnie Brook told Refinery29. It also brightens up your face, a ton of celebs are doing it, and I'm already sold.
https://www.instagram.com/p/BXETWgwlHgY/?utm_source=ig_embed
Whatever you do this winter, make sure that it involves transforming your hair into an ultra delicious color. It'll make the cold months much, much less dreary.