Red Wine Hot Cocoa Is A Christmas Miracle
by Valerie Williams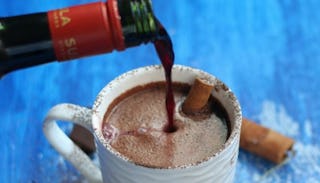 Image via Instagram
2017 is almost over, thank God
2017 is almost over. Let's not get into what a year it was, let's just rejoice in the fact that no one really expects anyone to get anything done this week. It's the week between Christmas and New Year — we barely made it through 2017… what better time to sit back, relax, and sip red wine hot cocoa like it's the end of days?
You read that right — you can now combine two of your very favorite vices into one warm, buzzy, beautiful, steaming cup full of vices. Chocolate and wine, together like they were always meant to be. The recipe comes to us courtesy of Elite Daily, and trust us — you're going to want to screenshot this.
First of all, behold; isn't it beautiful?
Now, wipe the drool from your chin so we can get down to business. You'll need a few ingredients: three teaspoons of unsweetened cocoa powder, four teaspoons of sugar and 1/8th teaspoon of salt. Mix that shit together in a small pot.
SO PRETTY.
Next, stir in two to three tablespoons of milk and then, the magic ingredient — a quarter cup of red wine. Mine may have a few extra splashes of vino so maybe add that "to taste."
Glug, glug, glug, glug.
Once it's good and hot, all that's left to do is pour into your favorite mug and cue up Netflix. And if you're me, slip into your new adult footed pajamas you bought in a fit of whimsy last week. Because, why the fuck not?
The fun doesn't even have to stop there, and as you can see from these Instagram posts, there are ways to change it up. Elite Daily suggests melted chocolate chips in place of cocoa powder, a method we strongly endorse as that makes it a lot richer and more chocolaty. You can also add in loads of marshmallows, sprinkle more cocoa powder on top of them, or even cinnamon. Or whipped cream. Or use half and half in place of milk so it's creamier. The possibilities are only limited by your imagination and alcohol tolerance.
Oh, and here are some red wine brownies from A Cookie Named Desire you can dunk in your red wine hot cocoa and if this is inception, please never let it stop. Red wine in all the things, please.
Happy drinking (and eating)!
This article was originally published on