The Pioneer Woman's Instant Pot Is NOT Cute, Sorry Not Sorry
by Julie Scagell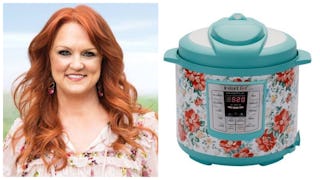 Image via Facebook/The Pioneer Woman/Walmart
Drummond's Instant Pots definitely make a…statement?
Ree Drummond has an almost cult-like following. Known as the Pioneer Woman to her millions of fans, the 'Food Network' star seems to be down-to-earth, personable, and just an all-around great gal. This makes what I'm about to say just a titch more unpleasant for both of us — y'all her new Instant Pot is not cute.
I know, I know, you're probably thinking, "How dare you utter a single negative word about anything this sacred woman touches." And to that I say, "Have you seen them?" Also, you should probably stop reading now because you may not like where this is headed.
The Instant Pot, which hits Walmart stores on September 15th, is the epitome of all the things we love about an Instant Pot. Drummond's also functions as a pressure cooker, slow cooker, rice cooker, sauteer, steamer, and serious lifesaver when you have 20 minutes to feed a starving family. And hers even comes with a booklet of Pioneer Woman recipes, which makes digesting her design a little more palatable.
Drummond is offering her six-quart pot in two designs: Vintage Floral and Breezy Blossom. And while I love me some vintage as much as the next gal, I'm not quite sure you can slap a flower on it and call it "vintage." But hey, what do I know, I'm currently sporting some sweatpants and a T-shirt from my 19-(cough cough) Spring Break that says, "Life's A Beach."
While people will obviously be lining up to buy anything Drummond is associated with, the author and TV personality said she initially wasn't so sure about the Instant Pot. "I was a little bit resistant to jump into the Instant Pot world for a while because it was just another piece of kitchen equipment that I didn't think was necessary," she told PEOPLE. "Then my good friend Hyacinth, who is on my show with me a lot, gave me an Instant Pot for my birthday last January. I think she realized that she was going to have to force it upon me. Of course once it kind of clicked and I saw what this machine was capable of. I was totally hooked."
And lest we all now have the capability, thanks to Drummond, to make a moist, juicy chicken in minutes, I would be remiss if I didn't point out that these Instant Pots look like my grandma's curtains got in a fight with…my grandma's other set of curtains, and there was no clear winner. But look, chocolate lava cake!
The Pioneer Woman is selling her line for $99 making it affordable and er, a statement piece for any kitchen.