Reese Witherspoon Posed With Her Daughter And Mom – And They're All Beautiful Clones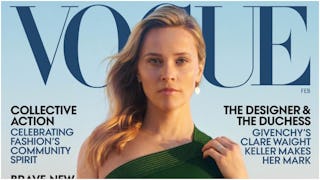 Image via Vogue
Reese Witherspoon, her daughter, and her mother are all twins in this photoshoot
In case you've missed the memo, Reese Witherspoon and her daughter Ava look exactly the same. Like, complete carbon copies of one another. And now we have photo evidence that Witherspoon's mom Betty can also pass as their twin (triplet?). The three posed together for a Vogue photoshoot and the gene pool is very, very strong with this one.
Behold three generations of women who literally look exactly the same (and are all bursting with that signature Witherspoon sunshine and sparkle). This will make you want to rewatch Legally Blonde immediately and then diligently comb through pictures of the whole family on Instagram. What, like it's hard…?
Oh, and Reese obviously slayed the cover shoot.
And shared a little preview of the photos in the feature.
Witherspoon opened up in her cover story about the awe she has for her mom, who worked as a labor-and-delivery nurse.
"There would usually be two women, and they'd be doing all the diapering, all the feeding — everything, all at once," she said. "And the crying of the babies! The noise! She said she didn't even hear it. I remember being so in awe of my mom. She always had a positive attitude, always laughing, always telling a joke, and she always had a billion friends at work. She just loved the women she worked with."
The actress has also had equally glowing things to say about her daughter — and, yes, she does knows how much they look alike.
"I do see the resemblance," she told Vanity Fair. "She's a beautiful person inside and out. She's just a good soul. I'm not sure what she thinks. I'm just 'Mom' to her. We're happy to share this wonderful experience. I really have a rich, personal relationship with my daughter. I have a really great career, and it's nice to be able to share it with my kids."
Want an extra fix of Witherspoon ~magic~? Please enjoy more pictures of Betty, Reese, and Ava living their best, glowing, twinning lives.
Okay, time for a Reese Witherspoon movie marathon starting in 3…2…1…